Yaaaaaayyy, first Wishing For Wednesday of the New Year!
Definitely get excited guys, because there are a tonne of brilliant books coming out this year, and you know, it's only January so all the ones I've found and shared in my blog posts recently are just the start, there's a load more that probably aren't even on GoodReads yet!
To kick off this year's WFW's I've got two of my most anticipated books from a series! One is the third book in a favourite spin off series of mine, and the other is the sequel and final book!
I'm so excited to dive in to both of these and see what happens next!
The Struggle
A bloody path has been chosen…
The war against the Titans continues, and they remain determined to wreak havoc on the world, but Seth has become something all gods fear. Now the most dangerous, most absolute power no longer resides in those who have been freed from their tombs.
The Great War fought by the few is coming…
All may doubt and fear what Seth has become. All except the one woman who might be his final chance at redemption. Josie will do anything to prove that Seth is on their side, but fate has a nasty way of changing lives, of changing people.
In the end, the sun will fall…
The only way they can save the future and save themselves is by facing the unknown together. It will take more than trust and faith. It will take love and the kind of strength not easily broken. No matter what, their lives will never be the same.
For what the gods have feared has come to pass. The end of the old is here and the beginning of the new has been ushered in…
The Struggle is out March 27th, pre-order your copy....here!
Add it to your TBR....here!
Wayfarer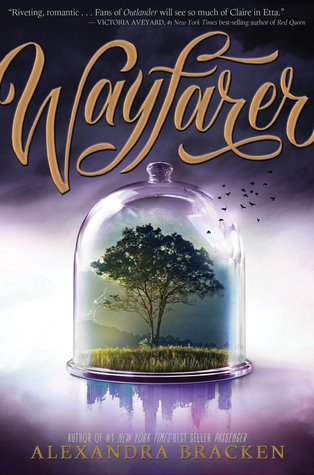 All Etta Spencer wanted was to make her violin debut when she was thrust into a treacherous world where the struggle for power could alter history. After losing the one thing that would have allowed her to protect the Timeline, and the one person worth fighting for, Etta awakens alone in an unknown place and time, exposed to the threat of the two groups who would rather see her dead than succeed. When help arrives, it comes from the last person Etta ever expected—Julian Ironwood, the Grand Master's heir who has long been presumed dead, and whose dangerous alliance with a man from Etta's past could put them both at risk.
Meanwhile, Nicholas and Sophia are racing through time in order to locate Etta and the missing astrolabe with Ironwood travelers hot on their trail. They cross paths with a mercenary-for-hire, a cheeky girl named Li Min who quickly develops a flirtation with Sophia. But as the three of them attempt to evade their pursuers, Nicholas soon realizes that one of his companions may have ulterior motives.
As Etta and Nicholas fight to make their way back to one another, from Imperial Russia to the Vatican catacombs, time is rapidly shifting and changing into something unrecognizable… and might just run out on both of them.
Wayfarer is out January 12th, pre-order your copy....here!
Add it to your TBR....here!