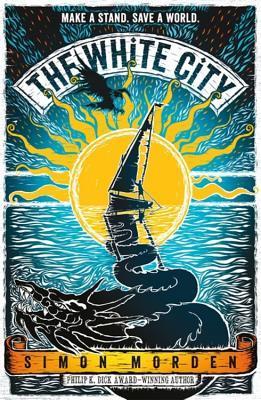 The White City
Rating: 3/5
Buy or Borrow: Buy
Source: Copy courtesy of the publisher!
Since escaping London's inferno, Mary and Dalip have fought monsters and won - though in the magical world of Down, the most frightening monsters come from within.
Now they hold the greatest of treasures: maps that reveal the way to the White City, where they can find the answers they're looking for, and learn the secrets of Down.
But to get there they must rely on Crows, who has already betrayed them at every turn. As they battle their way towards the one place in all of Down without magic, they must ask themselves how far they will go to find their way home.
After all, if there's one thing the White City offers those brave enough to enter, it's more than they bargained for.
I was intrigued by the cover for this book, and then the synopsis, so I jumped at the chance to review it! I also got to read the previous book, Down Station as well! I will admit, as I started to read Down Station I wasn't entirely sure about it, but I got drawn further and further in to the book. The portals kind of made me think of Primeval, especially with the revelations from this book!
Having read both books in a row, I think that The White City is a smidge better than Down Station, the previous book had too much of Mary and her memories for me. I mean the first couple of times I was like "okay fair enough" but then it was happening a bit too often! I really liked the vibe to the first book though with the castle and the dragon and everything!
Now in White City, we have our group in possession of all these maps, and they're looking to create one giant map, basically. But you know...Crows. They decided to give him a second chance and make a deal with him and you know....I think we all know that's not going to end well! Thinks aren't all hunky dory for team Down because one character blames Mary for another's death which leads to endless tension and unrest between them all. Not to mention some manipulating of a poor, innocent pirate! Oh yes. This book has pirates. I really do love pirates!
The thing with this book, is that I was never sure who to trust, there's distrust and betrayal everywhere! Crows, Simeon, Elena and so on. It was hard to know if Mary and Dalip where making a mistake or not, so this book definitely has you on edge as you try to navigate the way to the White City with the characters, and try to work out who's going to screw them over! I was intrigued by the twist at the end of the book regarding who's inhabiting the White City and what happens to Dalip. While some questions are answered there are plenty that aren't, and there's plenty of intrigue left to set up for more books in the series.
I found The White City to be different, original and full of action and adventure. I liked Mary and Dalip and was rooting for them, even though I don't always agree with Mary and occasionally want to shout at her! The book pulls you in to this strange world, and it's certainly an intriguing world. I enjoyed getting to see more of it in this book. I do think they where idiots to trust Crows and I was shouting at them in the beginning because it was so obvious that he was going to betray them! The White City will answer some of your questions, but it will also leave you with more ready for any next books in the series! I didn't 100% love this book, but I was intrigued by it, and I was pulled in to it and the world of the book!