Today is a triple review day, hell yes! I was lucky enough to be sent the first two Mirrorworld books as well as the brand new, third book to review for you guys! I do love Cornelia Funke, but I'm obviously out of the loop because I had never heard of these before the publisher got in touch with me about them! I believe these are revised editions of the originals that where published a while ago, but they where not at all what I was expecting! I think I was expecting them to be for a younger YA audience, but these ended up completely blowing me away! I binge read all three in near enough one go!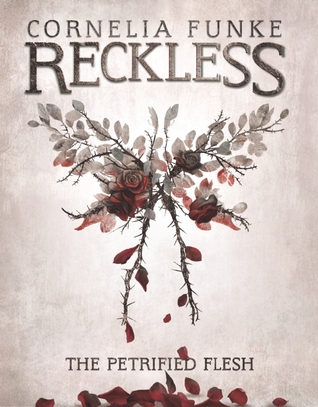 Rating: 4/5
Buy or Borrow: Buy
Source: Copy courtesy of the publisher!
Ever since Jacob Reckless was a child, he has been escaping to a hidden world through a portal in his father's abandoned study. Over the years, he has made a name for himself as a finder of enchanted items and buried secrets. He's also made many enemies and allies — most important, Fox, a beautiful shape-shifting vixen whom Jacob cares for more than he lets on.
But life in this other world is about to change. Tragedy strikes when Jacob's younger brother, Will, follows him through the portal. Brutally attacked, Will is infected with a curse that is quickly transforming him into a Goyl — a ruthless killing machine, with skin made of stone.
Jacob is prepared to fight to save his brother, but in a land built on trickery and lies, Jacob will need all the wit, courage, and reckless spirit he can summon to reverse the dark spell — before it's too late.
First things first, as soon as you open the book you get treated to some stunning illustrations, and they're present in all three books. Genuinely, I had to rub my finger across the page because I wondered if the publisher had sent me the wrong copy and I'd been sent one that had been drawn in by the author or something but no, the illustrations are in every book and they're printed on the page, they're just so well done they look like they've been casually sketched in!
As soon as I started to read the book I was drawn in by Funke's storytelling, and the intrigue and originality that was obvious from the very start. I loved that this book was a little bit dark and a little bit creepy, I think Funke does it very well. I was intrigued to be reading a children's book with a main character who's in his 20's so you can see why I was surprised when I started to read this and it wasn't what I was expecting. I ended up being completely drawn in! It's got some Lord of the Rings vibes, and some Brothers Grimm vibes, and it's SO vivid, the world really does rise up around you. Sleeping Beauty is in here, but I liked how instead of the whole happily ever after, sunshine and rainbows thing, Funke opts to have her still asleep because the Prince never came for her. Seriously, there's these little dark twists that I loved!
I loved the different POV's each character had a different personality, different motivations and something else to offer the narrative that the others didn't. The switches where pulled off smoothly and kept up with the pace of the book. I'm not entirely sure what age these books are aimed at, but I'm thinking younger children might not like the creepiness, I mean The Tailor even freaked me out and i'm in my 20's.
I loved the characters, I feel like Jacob is kind of an anti-hero, but I really rooted for him. He wants to save his brother, he might not be all cuddly and sunshiney but he does care about his brother. I loved Fox and I'm not going to lie I shipped her and Jacob SO bad! Fox really intrigued me, her backstory and what she was and could do. Will and Clara I was a bit eh about. Like they where okay, but Jacob and Fox where the characters that I really loved.
The Petrified Flesh is so darkly magical, and imaginative. It draws you in with the world, and the creatures and the magic, the action and adventure. The intrigue. It really gets the imagination going and it has a completely brilliant ending that leaves you wanting more!
Rating: 4/5
Buy or Borrow: Buy
Source: Copy courtesy of the publisher!
Jacob Reckless returns once again to the Mirrorworld — filled with profound characters, extraordinary creatures, and epic life-or-death treasure hunts that could only come from the mind of the master storyteller of our generation, Cornelia Funke.
Jacob Reckless has only a few months left to live. He's tried everything to shake the Fairy curse that traded his life for his brother's — legends such as the All-Healing Apple, the Well of Eternal Youth, the blood of a northern Djinn. And yet hope after hope is extinguished. After months of fruitless searching, Jacob journeys through his father's mirror one final time to deliver the bad news to Fox.
But there they hear of one last possibility — an item so legendary that not even MirrorWorlders believe it exists: a crossbow that can kill thousands, or heal one, when shot through the heart. But a Goyl treasure hunter is also searching for the prized crossbow. Jacob must find it first — and somehow convince Fox to do whatever it takes to save him.
After the ending of the previous book, I dove straight in to this one, eager to see what was going to happen next! Time has passed since the ending of the previous book, and Jacob is running out of time. He's tried a few things to save himself, but none have worked and he was one option left. I loved meeting another treasure hunter even if I hated him and wanted to smack him one more than once because hello...Jacob's life is at stake here! I loved the quest vibe to this book, I felt it was more so than the last book and it was a lot of fun!
There are more creepy creatures, hello Bluebeard. I loved getting to see more of the world of the book, and I loved how well paced the book is. There's plenty of action once again, and the world is vividly built for us. We continue to get more than one POV and I really found myself enjoying the Dark Fairy's pov this time around, I really started to feel for her this book and kind of, maybe started to root for her a little bit along with Jacob and Fox.
We get SO much Jacob and Fox in this book, I loved it. I'm loving watching their relationship grow and change and develop. Valiant. I still can't decide about him. Half of the time I really want to hit him, like last book I could cheerfully have murdered him. But sometimes it seems that he really does care about Jacob and I just can't decide about him! I really love the characters, each of them has such real, believable emotions that you can relate to them and empathise with them.
There's more mystery and intrigue as Jacob meets a familiar looking man with a familiar sounding name. There's more magic and mythology and I love mythology so I just drink it up from the page and bask in it, because Funke does it so well! This book builds up really well to book three and once again leaves you wanting more!
Rating: 4/5
Buy or Borrow: Buy
Source: Copy courtesy of the publisher!
Jacob Reckless continues to travel the portal in his father's abandoned study. His name has continued to be famous on the other side of the mirror, as a finder of enchanted items and buried secrets. His family and friends, from his brother, Will to the shape-shifting vixen, Fox, are on a collision course as the two worlds become connected. Who is driving these two worlds together and why is he always a step ahead?

This new force isn't limiting its influence to just Jacob's efforts – it has broadened the horizon within MirrorWorld. Jacob, Will and Fox travel east and into the Russian folklore, to the land of the Baba Yaga, pursued by a new type of being that knows our world all to well.
And thus we come to the third book. I wasn't entirely sure if this was a trilogy when I started to read these book, but as the book progressed I had to check because I was like...if this is a trilogy and it's going to end like I think it is then I'm going to be really mad. But it's all good because I believe there's going to be a fourth book yaaay!
There's a map at the front of this book, which just ratcheted up my excitement because we're getting to see even more of this world that Funke has created and I was so excited! We get to meet more new characters, some of which I could have done without. Yes I'm looking at you, ship botherer. There's more magic, more vividness and more exciting twists! We get to meet Jacob's father finally, although I really wanted to punch him for what he did! He's lowkey destroying such a fantastically magical world with all his machines, and then he's such a damn coward and then leaving! HATE HATE HATE. There's a twist involving the shadowy dude from the last book, Spieler, we get to see Will again, as well as a certain treasure hunter. Now. I kinda liked the way Nerron was warming up to Will, but I didn't really like Will this book, I'm not going to lie. Maybe because I'm so pro-Jacob and because I've really started to like the Dark Fairy! I just felt like in the first book I could empathise with him, but this book he just seemed so selfish and whiney and it bugged me.
There was so much angst for my ship it was hard to handle and then had that man....the one I won't name because UGH, coming in and messing with my ship and ugh. I mean...it all worked out in the end but still. I can't deal with angst! I'm so stoked my ship are finally together though, I've been waiting for it and watching the books build up to it so it's really satisfying to see it all work out! Especially with the information in this book about a certain golden thread....
The ending of this book...I can't even! I'm just really not over it because I could see both the Dark Fairy's side of things and Kami'en's side, and I could see what was going to happen and I empathised with her SO SO much and I was like NO DON'T DO IT. But she did...and then Will happened and then the ending and Kami'en and damn. I just couldn't deal. I'm so badly in need of the next book! I mean Fox and Jacob got their happy ending but no-one else did really! I'm like 99% sure we're heading to the book's version of Canada (because of our new human character and where he's heading) next which should be exciting and there's so many questions yet to be answered! I'm genuinely so excited for the next book! I've read Inkheart and I loved it but I just wasn't expecting these books to be how they are!