It's Wednesdaaay!
Which

means I have some new reads you

might

be interested in!
I've got some fantasy, the second in a series to be specific and you know it's a good one because of who the author is!
Aaaannndddd I've got the third book in a dystopian series that I fell in love with on NetGalley! I've been waiting aaagggesss for this book!
Angel Of Storms
Tyen is teaching mechanical magic at a school respected throughout the worlds. News arrives that the formidable ruler of all worlds, long believed to be dead, is back and enforcing his old laws - including the one forbidding schools of magic. As teachers and students flee, Tyen is left with no home and no purpose... except the promise he made to Vella, the sorcerer imprisoned in a book. Tyen must decide what he is willing to do to free her.
After five years among the tapestry weavers of Schpeta, Rielle's peaceful new life has been shattered by a local war. As defeat looms, the powerful Angel of Storms appears and invites Rielle to join the artisans of his celestial realm. But what will he require in return for this extraordinary offer?
Angel Of Storms is out November 12th, pre-order your copy....here!
Add it to your TBR....here!
Queen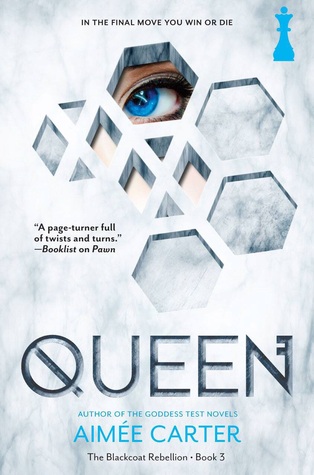 PAWN...CAPTIVE...QUEEN?

Kitty Doe is a Blackcoat rebel and a former captive with a deadly connection to the most powerful and dangerous man in the country, Prime Minister Daxton Hart. Forced to masquerade as Daxton's niece, Lila Hart, Kitty has helped the Blackcoats take back the prison known as Elsewhere. But Daxton has no intention of ceding his position of privilege—or letting Kitty expose his own masquerade. Not in these United States, where each person's rank means the difference between luxury and poverty, freedom and fear...and ultimately, between life and death.

To defeat the corrupt government, Kitty must expose Daxton's secret. Securing evidence will put others in jeopardy, including the boy she's loved forever and an ally she barely trusts. For months, Kitty's survival has hinged on playing a part. Now she must discover who she truly wants to be, and whether the new world she and the rebels are striving to create has a place in it for her after all.
Queen is out November 24th, pre-order your copy....here!
Add it to your TBR....here!