Hey guys!
This week I've got two ridiculously exciting books for you!
First up is a new book by Richelle Mead, I love all of her books, and this one has me super excited because Chinese Folklore!
The other book is the second book in the Reckoners series by Brandon Sanderson, and I loved the first book, so I've been eagerly awaiting the second!
Soundless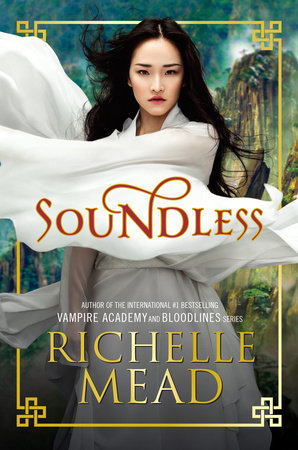 For as long as Fei can remember, there has been no sound in her village, where rocky terrain and frequent avalanches prevent residents from self-sustaining. Fei and her people are at the mercy of a zipline that carries food up the treacherous cliffs from Beiguo, a mysterious faraway kingdom.
When villagers begin to lose their sight, deliveries from the zipline shrink and many go hungry. Fei's home, the people she loves, and her entire existence is plunged into crisis, under threat of darkness and starvation.
But soon Fei is awoken in the night by a searing noise, and sound becomes her weapon.
Soundless is out November 12th, pre-order your copy.....here!
Add it to your TBR....here!
Firefight
They told David it was impossible--that even the Reckoners had never killed a High Epic. Yet, Steelheart--invincible, immortal, unconquerable--is dead. And he died by David's hand.
Eliminating Steelheart was supposed to make life more simple. Instead, it only made David realize he has questions. Big ones. And there's no one in Newcago who can give him the answers he needs.
Babylon Restored, the old borough of Manhattan, has possibilities, though. Ruled by the mysterious High Epic, Regalia, David is sure Babylon Restored will lead him to what he needs to find. And while entering another city oppressed by a High Epic despot is a gamble, David's willing to risk it. Because killing Steelheart left a hole in David's heart. A hole where his thirst for vengeance once lived. Somehow, he filled that hole with another Epic--Firefight. And he's willing to go on a quest darker, and more dangerous even, than the fight against Steelheart to find her, and to get his answers.
Firefight is out November 12th, pre-order your copy....here!
Add it to your TBR.....here!