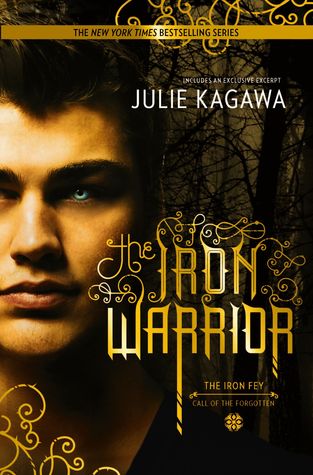 The Iron Warrior
Rating: 5/5
Buy or Borrow: Buy
Source: Copy courtesy of NetGalley
The Iron Prince—my nephew—betrayed us all.

He killed me.

Then, I woke up.

Waking after a month on the brink of death, Ethan Chase is stunned to learn that the Veil that conceals the fey from human sight was temporarily torn away. Although humankind's glimpse of the world of Faery lasted just a brief moment, the human world has been cast into chaos, and the emotion and glamour produced by fear and wonder has renewed the tremendous power of the Forgotten Queen. Now, she is at the forefront of an uprising against the courts of Summer and Winter—a reckoning that will have cataclysmic effects on the Nevernever.

Leading the Lady's Forgotten Army is Keirran himself: Ethan's nephew, and the traitor son of the Iron Queen, Meghan Chase.To stop Keirran, Ethan must disobey his sister once again as he and his girlfriend, Kenzie, search for answers long forgotten. In the face of unprecedented evil and unfathomable power, Ethan's enemies must become his allies, and the world of the fey will be changed forevermore.
I have waited SOOOOO long for this, it feels like years, it may have been, I lost all sense of time
waiting
for this book! Although I did
comfort
myself
with
the Talon books so I can't really complain! I
remember how things where left off, how could I not after that ending!? So I eagerly started reading, and I was immediately sucked back in to the world and the story as if I'd never been away. I was immediately pulled in and glued to the page, reading as fast as I could. I managed to read it in one sitting, and ya know, I started out kind calm. Excited, but calm. But as the story thundered towards the conclusion, I was on the edge of my seat wondering what was going to happen and how it could all be resolved. I should have more faith in Julie Kagawa by now to be honest, but I was still getting nervous looking at the % left.
I can't remember what I said about the second book and the characters, but in this book, it has to be said....I really wanted to smack Kierran one. Badly. I know he has his reasons and everything, and he's Meghan and Ash's son so I should love him, and I did like him back in the first book but by the time this book has rolled round...I'm like "NO BAD KIERRAN, I DON'T LIKE YOU ANYMORE" he's a little bit of an evil douche, and I did wonder at points towards the end if he could be stopped, if he could be saved. As I was reading, all his reasons came flooding back and I was like "okay.....there are other ways....but okay". So yeah, Kierran, I spent a lot of the book disliking him and then at the end I actually felt sorry for him because I was like "that's not really fair but he was kinda evil for a while".
It's like Kierrans romance, in the beginning I was like "aww", by the time this book rolls around I'm kinda like "I'm not sure I like you" about Annwyl, because ya know....it is kind of all her fault! Sorry guys, but Ash and Meghan will forever be my favourite and Ethan will forever be the kid from the Iron Fey trilogy. I'm so protective of my little precious's, and I'm like "HELL NO" at everything going on in the book. So, with that in mind, with their romance I'm kinda like, well....I prefer Ethan and Kenzie's really. That being said....I was not expecting the ending to their romance that there was, and I was like "NOOOOO" because as annoyed at the two of them as I was, I was just not expecting it. So yes. Well done Kagawa for shredding my feels. What a scene.
The world Kagawa has created is truly magical, and it really springs to life as you read. Not just the Fey realms either, but the human world as well, when we see it briefly. After reading all of the books, going back in to the world was like going home. Everything was familiar, but at the same time it was a little bit bitter sweet because it's the last book and the last time you'll be in the world. We completely got to back to Tir Na Nog and I loved that, but we didn't get to see much of it! The Forgotten's "realm" as such, was suitably creepy and dark. Each of the realms has it's own atmosphere and it's one you can really feel, which helps to bring it to life and I just want to live in the world of the Fey that Kagawa has created, forever!
We also venture in to a certain area of the Fey realm and it has to be said...I loved the incredibly creepy carnival and I laughed way too hard at Kenzie being all "The bearded lady" in distress. I found that scene hilarious as well as creepy, I'm not sure if I was supposed to find it funny but I did, and it was definitely really creepy. I might have second thoughts about going near one in the future.
I just really love Kagawa's take on Fey, particularly the Iron fey as well as the Forgotten. Razor is my fave, and there where was a completely heart stopping moment regarding him and I was like "NO MY FEELS". I just can't get over all the Iron Fey, let alone the other Fey. I love reading all about them and I will never not go on about them for ages, so I'm trying to keep it concise now. I've got to say, you get to see a certain part of the Fey realm that was exciting and....interesting, shall we say.
Kagawa writes truly excellent female characters as well as male. They're always strong, don't back down and courageous and Kenzie just continues to completely slay and be utterly awesome. She's one of my favourites, alongside Meghan herself. I love all the Meghan and Ash scenes but it's so strange reading about them as parents at the same time, because not long ago I was reading all about them in their own story! Anyways, I truly love Kenzie as much as I love Ethan, and I'm so onboard their ship! I've loved watching the pair of them develop over the course of the book, Ethan has truly changed and it's been great to watch. The romance developed so perfectly as well.
We see lots of old faces in the book, Puck....I freaking love Puck, not going to lie, he makes me chuckle to another degree! We saaaaawwww Thin Man and Grimalkin, and Leanansidhe! I actually really felt sorry for her, I've got to say, but then she showed up and went full badass joining Ash and Puck and being all "dire last stand" and I seriously loved her a little bit more. She's always been a favourite of mine, even if she shouldn't have been, cos of the whole trapping people things. She makes me laugh and I'd always wanted to know more about her, so getting to see her go full badass was kind of awesome.
There are some truly epic fights in this book, and I love reading them because I feel like I'm there with them. If only I was that badass though! They really grip you and have you on the edge of your seat and I love it when ones thrown in because they're always well written and, I'm assuming, correct. I wouldn't know because I'm not, ya know.....a badass fighter! Speaking of badass...I just HAVE to mention Mab. She was super scary in the other books but there's a moment in this book that makes me completely love her because she's basically all "NOT MY GRANDSON YOU BITCH"/ "Not today bitch" and I'm like " OMG MAB YES!!!!". I now firmly love Mab.
So, the plot comes to it's epic conclusion, after many twists and turns that had me freaking out. Julie Kagawa writes what I like to call "throw across the room in a feels meltdown" books. My feels are shattered every time I read one of her books, because of what she does to her characters! This was no exception. I was so close to throwing the book more than once! Especially with some of the plot twists, I really did not see the majority of them coming and kinda just had to roll with it. This being the last book, it was even more emotional to be honest!
The plot is wrapped up perfectly. Seriously, the ending is freaking perfect and when I read the last bit I was squealing "aaaaawwwwww" and kicking my legs about for no reason at all! I'm so sad to see the series come to an end, but it's been one hell of a ride. As much as I loved this final book, it made me so sad because I wanted to keep reading the Fey series forever, and stay in the world with the characters forever. To be perfectly, 100% honest, this book had a completely perfect ending. I kinda just sat there staring at the last page of the book thinking about the whole thing and basking in the perfectness, as well as the feels that it's all over. I think fans will be pleased, much like I was. As much as they wish Kagawa would keep writing Iron Fey books! I'm now rambling in an attempt to keep the magic of the books going, even though they've finished so I'll stop now and repeat....this book is awesome. It's the perfect ending to a fantastic series. Get on it!