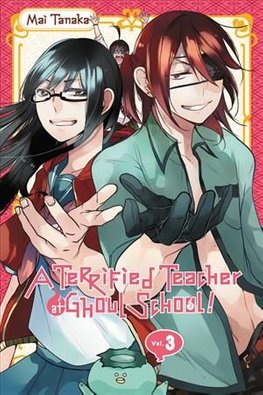 A Terrified Teacher at Ghoul School Vol 3
Rating: 4/5
Buy or Borrow: Buy
Source: Copy courtesy of the publisher!
Sports day has arrived, and Haruaki is preparing his students and formulating strategies to come out ahead of the other classes! What has got him so motivated...? Also, when a youkai TV station shows up to interview and follow him around for a day, Haruaki and his star-struck students all try to look their best, but inevitably, things don't go quite as planned...
The art for this series continues to be on point with fantastic character designs, not to mention settings and backdrops and the bright colour pages!
This volume brings much hilarity...who knew cleaning a pool could turn in to such a calamity!? Although it should be expected at this school, let's be real! More importantly this volume, Sports Day is here and things won't go well for poor old Haruaki if his class comes in last. Because of course there's a consequence if you lose...it wouldn't be ghoul school otherwise!
One aspect of this volume that I enjoyed was getting to meet a few new Youkai, all members of Haruaki's class. Specifically Maida, a merman who can swim through the air, and Kurahashi who can predict misfortune...and we all know Haruaki...he just can't help himself even if it screams bad idea.
I kind of thought Haruaki was completely stuffed this volume, he has to strategise and plot...but he's actually kind of good at it. He makes sure his students use their powers to the full, so we get to see quite the display of magic during this Sports Day arc...not to mention the Headmaster makes an interesting comment about Haruaki...alluding to some other person.
Anyway, I think we all know this Sports Day isn't going to be a regular Sports Day, there's plenty of supernatural twists to keep us entertained. Watching all of the characters come together and work as a team was actually a little bit heartwarming....and just plain hilarious at the same time. Especially at the end when they had to motivate Haruaki and it seemed deathly serious and I was tense and on edge....but then a certain reveal happened and I actually snorted because...of course. Either way it was Haruaki's time to shine this volume and I actually felt quite proud of him!
Honestly I wasn't entirely too sure which way the Sports Day thing was going to go, I don't expect this series to have our MC's class actually win like most other series, so it could have gone a number of ways. They could have won, they could have lost, they could have come in somewhere in the middle, I was genuinely gripped to see how it would play out!
Aside from the hilarity of Sports Day we also have Youkai TV wanting to do a documentary on Haruaki, which provided even more humour as the class tries to help make him look good. Although ti has to be said...Sano really packs a verbal punch.
Volume 3 is a fast paced volume that's action packed, full of humour hugely entertaining with some heart warming moments thrown in too, as we see the class grow ever closer with their long suffering teacher, and how far they've come as a team. Plus, if three different story arcs weren't enough for you in one volume, we have a hilarious bonus chapter to tide us over until next volume!
Plus, like I've said before, you can't convince me there isn't something bigger coming with this series. First the anti-youkai power, and then the mysterious comments about Haruaki being like "him". I'm fairly sure this series is leading up to something...but what? And if it isn't...I guess I'm just Boo Boo the Fool.