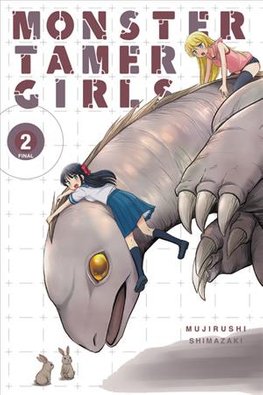 Monster Tamer Girls Vol 2
Rating: 4/5
Buy or Borrow: Buy
Source: Copy courtesy of the publisher!
The new girls of the Tamers Committee are coming into their own as monster caretakers, yet the monsters remain ever mysterious. As Ion and her friends explore the touching personal stories behind human-monster relations, can looking to the past pave a way for the future? Find out in this final volume of Monster Tamer Girls!
I can't believe that this is the final volume?! I'm actually quite sad as I was looking forward to seeing more of the monsters!
This volume gives us some more heartwarming stories of monsters and humans, as we get Sora's story! Honestly though...Ookawara's story hit me right in the feels, with the monster taking care of him. So as you can see we have quite the mixed bag when it comes to this volume!
Koto ends up taking the girls in to the monster shelter district so we get to see inside there, plus meet a couple of new monsters! It was cute to see Blue helping her out, and Nonoka hit me in the feels too!
I feel like over the course of both volumes, characters like Koto and Tsukiko have come a long way and have changed a little in their feelings towards monsters, as well as their actions. I actually really enjoyed this world, and I'm sad we don't get to explore it more but at the same time, I guess there's only so far this story could go.
This final volume gives us a batch of new monsters to meet, heartwarming moments, sad moments, and we get to see how things work out for the girls! I really enjoyed the way this was wrapped up, and everything was brought to an end!