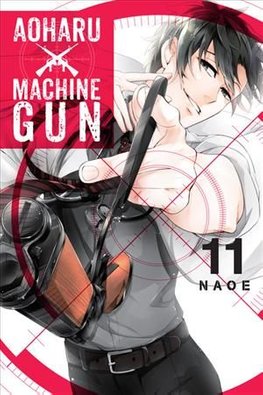 Aoharu x Machinegun Vol 11
Rating: 4/5
Buy or Borrow: Buy
Source: Copy courtesy of the publisher!
When Hotaru's mother arrives at Tsukishiro Complex and demands Hotaru be taken off Toy?Gun Gun, even its most steadfast members are shaken to their cores. Despite the fact that the team might not survive Hotaru's loss, much less the TGC, Kane Tachibana wants to take her daughter back to America with her at once! Up against this mama bear who has no patience for weakness, will Matsuoka and his unique approach hit the mark?!
I think we've all been waiting for the reveal and the fallout with the other members of Toy Gun Gun so I've been living for these latest volumes!
This one brings us a glimpse of Hotaru's childhood and how she grew up and came to be the Hotaru we know and love, right off the bat. Sure it's because her Mum is trying to get Matsuoka and the rest of Toy Gun Gun to take her off the team...but...I've been so curious about her past! Real talk though...this volume really gives us a chance to see how far the team has come with her helping them fix it, she brought them all back together and they've all really bonded.
Hilariously...I mean, unfortunately, Matsuoka and Yukimura get a taste of Kane's....skills. Ouch. Poor guys.
Matsuoka drops quite a bomb Hotaru and I'm not sure how things are going to pan out if she follows what she's been told. I mean, either way I'm shipping them hardcore, but I'm intrigued to see how the plot is going to work around this, or what it could change.
Meanwhile we get some more background on Haruki and his situation. There's even a bit of drama involving him, especially when he, you know....disappears and is nowhere to be found when the TGC starts. Not ideal. Although we did get to see Midori getting hilariously salty that Hotaru needed Haruka's help and not his. Bless.
This volume has a cracking pace as we see the fallout from Hotaru's Mum arriving, and then have an interesting plot thread with Haruki thrown in right before the TGC kicks off. There's a lot going on, and there's plenty to keep you occupied right up until the end of the volume.
Speaking of the TGC, it's clearly going to be a good one. We've got Matsuoka's little bomb drop, followed by what we learned in the previous volume. Then we have Toy Gun Gun going up against Star White, and Agartha back to competing, not to mention Friendly Fire!
Just because Toy Gun Gun are facing friends...or frenemies in some cases, we all know it doesn't mean they're going to win. I'm kind of tense waiting to see how each battle is going to play out, and who's going to come out on top. I have a good feeling about TGG this time around, Matsuoka has come quite far since the first volumes, and it was really satisfying to see him hold his ground with Midori!
On top of everything else this volume gives us, we get some interesting background on the Manager and Kamenashi...they've clearly had a falling out but it's over something to do with when they where in a three man cell. I'm all kinds of curious about what went down! We do finally get to find out who the third member was too!
As Toy Gun Gun take part in their first battle of the TGC the odds seem stacked against them, and we see a style of battle we haven't before...the King Game. Hopefully Matsuoka's tactics will work but there's no guarantee our team will win with this series. Guess we'll find out next volume!
Volume 11 is not only fast paced and full of action, reveals and twists, but it also moves the plot along. We speed through from the conclusion of last volumes cliffhanger to the TGC kicking off with some trouble for Haruki along the way which is going to be an interesting plot thread, and will no doubt provide more background on his character. The reveal we've been waiting for has finally happened, more tidbits about the characters and their backgrounds are being thrown out, and what I'm really loving about this volume is how far the characters and TGG have come since last TGC. This volume also leaves plenty hanging to make you desperate for the next volume as things are really heating up!