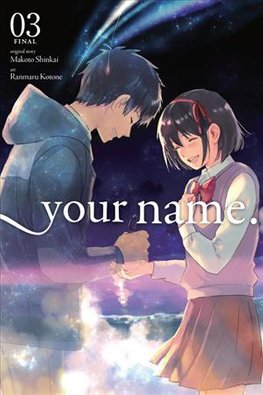 Your Name Vol 3
Rating: 4/5
Buy or Borrow: Buy
Source: Copy courtesy of the publisher!
To save Mitsuha and all of Itomori from the comet Tiamat, Taki joins up with Saya-chin and Tesshi to evacuate the town. But Mitsuha's father is stubborn and refuses to listen...
Okay guys, this is the final volume and I don't want to spoil anything for anyone so I'm gonna keep things as vague as I can! I have to say, this has sucked me in more and more and the twists have truly surprised me throughout!
The comet is imminent and Taki and co are springing their plan in to action to get the town evacuated because as is typical, no-one believes the teenagers. Meanwhile Mitsuha has gone to Tokyo in search of Taki....but he doesn't recognise her!?
This volume is so tense as we wait to see if things will change and the town will be saved and if Mitsuha and Taki will finally be together. I have to say, the volume did give me pause towards the very end, but...I'm not going to lie, this story is wrapped up beautifully and it hit me right in the feels! Now I have to go watch the anime of it!
This story has been so beautifully drawn and paced and told and I enjoyed it way more than I was anticipating when I started it and wasn't too sure what the story was all about or where it was going! The surprises keep on coming right up until the end and the story has really kept me on my toes!