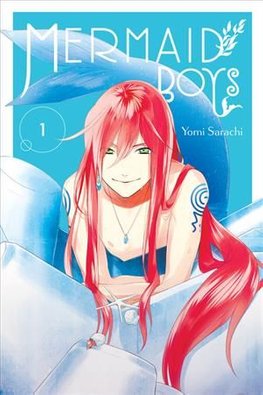 Mermaid Boys
Rating: 5/5
Buy or Borrow: Buy
Source: Copy courtesy of the publisher!
The mermaid prince is super-popular with all the girls lining up to be his bride. But the one he falls in love with...has legs!
Okaaaay I'm calling it now, this is one of my favourite new manga of 2018, I completely freaking loved this, it was brilliant! Naru is totally Ariel in male form, but with more attitude and a bit of arrogance, he's completely and utterly hilarious. I actually really loved him and I'm totally rooting for him.
Nami is sweet...or at least that's what she seemed like at first, she's actually got a bit more attitude than it seemed at first which I loved, she's certainly not going to make things easy for poor old Naru. Speaking of Naru, it looks like he's going to have some competition in the form of Arashi who shamelessly took credit for Naru's heroic save...which annoys him to no end. It appears we'll be having a love triangle.
In the shady AF corner we have Mellow, who's basically Ursula but with some twists, I do love how Naru wasn't the least bit bothered about his shadiness. Ryou has some weird smell fetish thing and like...you can't just be pushing people in to the water like that dude! I was actually fairly sure he was Mellow in disguise but it turns out he's not, he's another merman with a sinister purpose which is going to be much more interesting!
Mermaid Boys has a nice, swift pace, and the art is gorgeous! I love how the characters and settings are drawn and the volume is so freaking funny and entertaining, largely thanks to Naru who's a brilliant main character! The volume ends on a sinister note as we meet Loa, Mellow's henchman who's no doubt going to cause all kinds of trouble! I genuinely fell completely in love with this and got so hooked on it, I raced through the volume and was thoroughly entertained....and I'm going to be needing the next volume ASAP to see what hilarity ensues next!