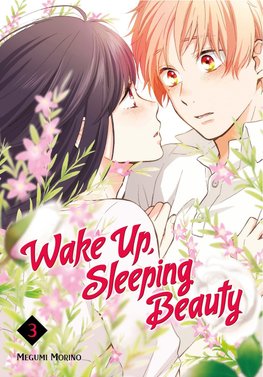 Wake Up Sleeping Beauty Vol 3
Rating: 4/5
Buy or Borrow: Buy
Source: Copy courtesy of the publisher!
As Shizu begins to venture outside more and more, her days are filled with new experiences. When she shows an interest in going to school, Tetsu and the spirits dwelling within Shizu think up a foolproof plan to get her there. But when the two teens arrive on campus, they bump into Tetsu's old soccer team. Suddenly, his carefully curated life begins to unravel and Shizu may be the only one who can save him.
Things are really heating up with this volume, Tetsu has come up with a plan to help Shizu, part of which is a guide to handling things outside of the mansion and the other part is taking her to school with him.
This volume really gives us a lot of insight in to Tetsu and his childhood and his friendship with Ueno and everything he gave up for his family. I actually really felt for him. This volume was so heartwarming seeing the lengths his team went to for him and helping him achieve his dream with the help of Shizu. Tetsu has been doing so much for her, overcoming his fears and helping her as much as he can and it was nice to see her come out of her shell and help him for once!
I'd definitely say the romance has finally kicked off in this volume too, and it's so cute! Things get all warm and fuzzy and cute and I'm so ready for more of it the next volume! As well as seeing what kind of solutions Tetsu comes up with! Plus....the characters have already come quite a way since volume 1 and I'm looking forward to seeing them grow and develop even more!