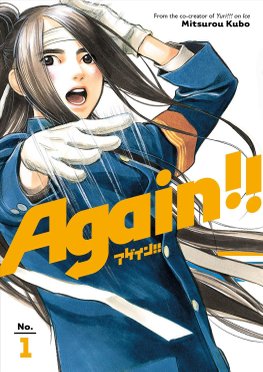 Again!!
Rating: 4/5
Buy or Borrow: Buy
Source: Copy courtesy of the publisher!
Kinichiro isn't even that bad. It's just that on the first day of high school, his narrow eyes made him look shifty, so people assumed he was trouble. Now it's graduation, and he's looking back on three years with no friends. He never even joined a club. But after a bloody collision and an accidental fall, he wakes up a high school freshman, with the chance to try it all over... AGAIN!!
Again!! is from the creator of Yuri on Ice, so...I had to read it. I had to. I couldn't not. I freaking love Yuri on Ice and I needed to see what other kind of project Kubo would come up with..plus this sound intriguing and super relatable. Spoiler alert...it was!
I'm not going to lie...but the High School in the series has the word Minami in it and I may have freaked out a little bit because..you know...Minami....Yuri's little fanboy....I can't even.
I have to say, I actually really felt for Imamura and it's kind of easy to relate to him. I think we've all felt how he does at one point or another. He's super relatable, and I for one have wished to go back and do something over. I wasn't expecting Aki to go on the journey with him though, she added an interesting element to the story. You have the guy who didn't have a great time at school getting a do over and thriving...and then the popular girl getting a do over and not doing so great. I'm so here for an unlikely friendship between the two of them!
Again!! is entertaining and a lot of fun, I'm so intrigued to see what he's going to do to change things, and to find out more about the club and so on and what went down to break it up. There's so much scheming so far, and I kind of hope things work out for Aki because I feel for her too for completely different reasons to Imamura!