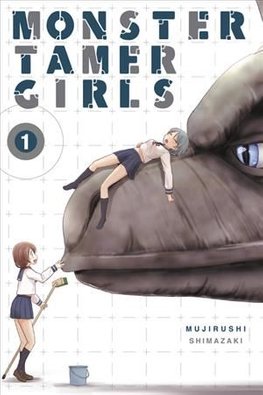 Monster Tamer Girls Vol 1
Rating: 4/5
Buy or Borrow: Buy
Source: Copy courtesy of the publisher!
Two girls start attending a new school and find themselves responsible for the care and feeding of monsters!
I've been super intrigued by this manga, because I couldn't quite work out if we'd be dealing with dinosaurs or dragons or some combination of both, and it sounded like an interesting new series! I have to say, this first volume certainly delivers on the interesting part! The inside cover has plenty of interesting and useful information on the world of the series and how it works and what Tamers do and so on, which piqued my interest before I'd even started to read!
Straight off the bat we meet Sora and Ion, who are thrown in to the deep end and tasked with looking after a monster that lives on the school grounds. Ion is kind of scared of the monsters but they seem to like her, she appears to be the best at taming despite being young and untrained...I kind of got "Special Snowflake" vibes from her though, so I guess we'll see what's in store for her. I'd actually quite like to get to know Sora better next volume, she's in a different programme to Ion which could be interesting!
Tsukiko...I kinda felt for her, it was nice for her to get such a heart warming chapter but she's hilariously bad at naming the monsters, she's another character I'd like to get to see more of in the future!
This initial volume was fun and entertaining, the monsters are drawn wonderfully as are the settings. It kind of reminds me of Godzilla coming and destroying buildings and cities...and then just inviting his buddies over and hanging out. That's what the world reminds me of anyway. This volume lets us get to know the characters and meet a couple of the monsters inhabiting the world as well as getting osme background on the monsters and how everything works! It's certainly an interesting and fun start to a series!