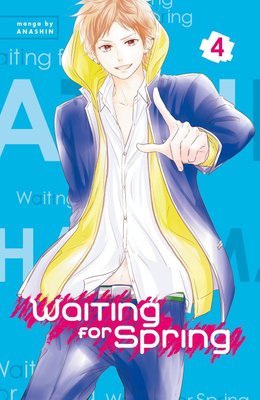 Waiting For Spring Vol 4
Rating: 4/5
Buy or Borrow: Buy
Source: Copy courtesy of the publisher!
The preliminary games begin, and Towa and the squad are all fired up! Mitsuki's childhood best friend, Aya-chan, is also at the arena playing his best, and the stakes are high. As Mitsuki and Reina cheer on the Seiryo team, Mitsuki sees the boys sweep the floor and is inspired to work hard, too! But when a ref's whistle cuts through the air, a close friend lies injured on the court...
The games about to start and we meet the Captain of the team who's kind of...elusive I guess you could say. There's a cute moment between Towa and Mitsuki right from the start. Mitsuki bless her, is so awkward sometimes! Reina cracks me up to another level, she's even a little bit relatable at times. She's formed an odd sort of alliance with Aya which is quite funny for us, but not great for Mitsuki!
Speaking of Aya, I still can't bring myself to like Aya. He's so cocky and arrogant, plus I'm fully Team Towa! We're kind of getting spoiled with cute Towa/Mitsuki moments so I'm guessing we're going to have to have some Aya/Mitsuki moments soon.
I'm not going to lie, I thought everything would be fine and rosy so I was surprised at the two little plot twists with one characters injury and the outcome of the game and so on. It was a nice little twist that not everything went the characters way as usually happens in these kinds of manga.
We get to see Reina, Mitsuki and Nana hanging out with the boys and Rui and Ryuji get some more page time for once! Rui gets some solo interaction with Mitsuki too which was interesting because we don't really see them interact all that much away from the group and to be honest we don't really see Rui much anyway. Kyosuke has his own moment with her too, and I'm totally sure he's messing with her because he clearly knows exactly what's going on and who has feelings for who. I kinda want to smack him one.
The volume leaves us with excitement for the next as something could fiiiiiinally be about to happen, and there's plenty of cute moments throughout the volume as well as some well drawn action shots of the basketball tournament!