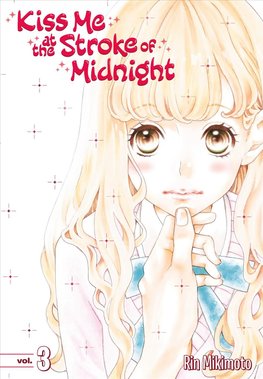 Kiss Me at the Stroke of Midnight Vol 3
Rating: 4/5
Buy or Borrow: Buy
Source: Copy courtesy of the publisher!
Hinana prizes her reputation as a serious high school student, too focused on getting into college to pay attention to boys. But she's a secret fairytale romance freak, sneaking away from her studies to see A Roman Holiday and tucking pop idol magazines into her textbooks. When her celebrity crush comes to her school to film a TV episode, she has to pretend to be totally uninterested even as she desperately tries to get close to him. However, she's not the only one who's not what she appears... her dreamboat isn't just a pretty face either!
Okay folks, this volume brings the drama! Mitsuki makes an appearance this volume, and he's Kaede's old bandmate. He's most definitely shady and up to no good but he's also kind of an airhead. Or at least, I thought he was with his mirror.
There are plenty of cute and fluffy moments with Kaede and Akira kind of, sort of makes a move. He's obviously not going to sit around and with Mitsuki plotting, things are going to get complicated and drama filled and I'm so here for it!
The main focus of the volume is Mitsuki wanting to mess with Kaede and it becomes obvious that something else may have gone down besides Kaede leaving the group, or at least I hope it has because really boys?! Reaaaaaaally?! I loved the fact that when Kaede came to save the day he didn't do what I was expecting at all, but it was so very Kaede at the same time.
The fluff/drama ratio is spot on and we get left on a cliffhanger as Mitsuki clearly isn't done with his schemes, so I'm anticipating drama in the next volume too! I'm also not entirely sure what to make of some of the other members of Kaede's band. Things are definitely getting juicy though, and I'm super excited for it to see how Hinana will react and what Kaede will do!