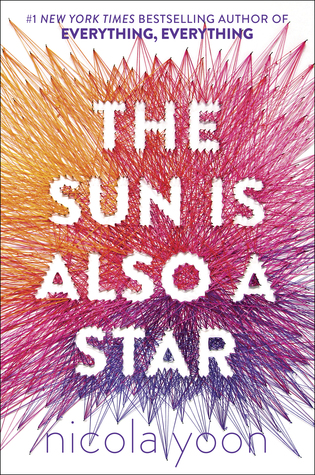 The Sun is Also a Star
Rating: 4/5
Buy or Borrow: Buy
Source: Copy courtesy of the publisher!
Natasha: I'm a girl who believes in science and facts. Not fate. Not destiny. Or dreams that will never come true. I'm definitely not the kind of girl who meets a cute boy on a crowded New York City street and falls in love with him. Not when my family is twelve hours away from being deported to Jamaica. Falling in love with him won't be my story.

Daniel: I've always been the good son, the good student, living up to my parents' high expectations. Never the poet. Or the dreamer. But when I see her, I forget about all that. Something about Natasha makes me think that fate has something much more extraordinary in store—for both of us.

The Universe: Every moment in our lives has brought us to this single moment. A million futures lie before us. Which one will come true?
So, I never read Yoon's other book. There I said it. Everyone was raving about it, and hyped books make me wary, and contemporary isn't usually my thing. But seeing as how I got sent this, and the cover was all pretty and colourful and I was intrigued...I thought why not. I actually found myself really enjoying the book, it was so different!
It's set over the course of one day and I love how the author did that, she paced it perfectly and made it work and I loved the whole destiny theme! I also really liked watching Natasha and Daniel fall in love, and develop a relationship as they hung out and answered the questions. And I really, really loved Yoon's writing style. Natasha is about to be deported, it's all very serious and very upsetting, yet Yoon manages to throw in some humour too without taking away from the seriousness of Natasha's reality.
I also really enjoyed how you get both Natasha and Daniel's POV, and you get Daniel's little poems, and these little interlude type things with backstory for secondary characters that explains their actions and why they're behaving the way they are. I actually really, really liked that, it added a little something different to the book and rounded the story out!
I really liked the main characters, Natasha and Daniel. They're complex, and relatable. Sure you might not be in either characters exact same situation but there are things about both characters that make them relatable. I became really attached to the both of them, and I enjoyed watching them develop over the course of the book! The ending broke my heart a little bit, but then the very, very ending made me smile and kind of really want more. I need to see what happens next!