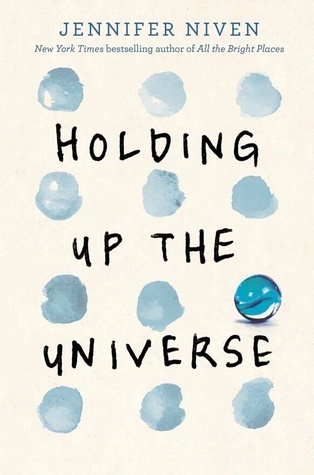 Holding Up The Universe
Rating: 4/5
Buy or Borrow: Buy
Source: Copy courtesy of the publisher!
Everyone thinks they know Libby Strout, the girl once dubbed "America's Fattest Teen." But no one's taken the time to look past her weight to get to know who she really is. Following her mom's death, she's been picking up the pieces in the privacy of her home, dealing with her heartbroken father and her own grief. Now, Libby's ready: for high school, for new friends, for love, and for

every possibility life has to offer. In that moment, I know the part I want to play here at MVB High. I want to be the girl who can do anything.



Everyone thinks they know Jack Masselin, too. Yes, he's got swagger, but he's also mastered the impossible art of giving people what they want, of fitting in. What no one knows is that Jack has a newly acquired secret: he can't recognize faces. Even his own brothers are strangers to him. He's the guy who can re-engineer and rebuild anything, but he can't understand what's going on with the inner workings of his brain. So he tells himself to play it cool:

Be charming. Be hilarious. Don't get too close to anyone.



Until he meets Libby. When the two get tangled up in a cruel high school game—which lands them in group counseling and community service—Libby and Jack are both pissed, and then surprised. Because the more time they spend together, the less alone they feel.

Because sometimes when you meet someone, it changes the world, theirs and yours.
For my second contemporary of the day, I'm hitting you with another contemporary from Penguin's box of goodies! As you can probably tell, after Spooktober, I'm now attempting to catch up on reviews super fast, which is why I'm double posting reviews! ANYWAY. I was wary going in to this. As a former fat girl, who had a very crappy time at school because of it, I'm always wary of reading contemporaries like this because they usually bring back unpleasant memories. But I was intrigued by Jack and the premise of the book so I settled in to reading it.
I really, really liked Libby. I was more of an Iris, and I wish I could have been like Libby back when I was at school. She had so much confidence, I mean...that bikini scene! I never would have had the balls to do that. I found myself really liking and respecting Libby, and really rooting for her. I could relate to her so much, and she was such an inspiring character.
Our other main character is Jack, and he has prosopagnosia which is something that I've never heard of before, and it sounds absolutely terrifying. Sure Jack didn't handle it in the best way but I could relate to him wanting to fit in, wanting to keep familiar things or rather people around him, in a world where he rarely recognises anyone. Sure, getting involved in the bullying wasn't the best move, but I could understand why he did it. I felt for him. He hasn't even told his family, and his dad's doing his thing, and Jack's not got the best home life because of it, but he really redeemed himself with Libby and I loved watching their friendship and then relationship develop over the course of the book.
Holding Up the Universe is an inspiring read for many reasons, not least of which is seeing two characters battle through the adversity they face to come out the other side. You can relate to both characters easily, whether or not you've personally experienced the same things as them. There where moments to make you laugh, and others to make you choke up, and then there are other moments with characters that make you want to smack them one! It's a genuinely good read, and like I've said before...I'm not a contemporary reader usually, so it's really high praise from me when I babble on about one!