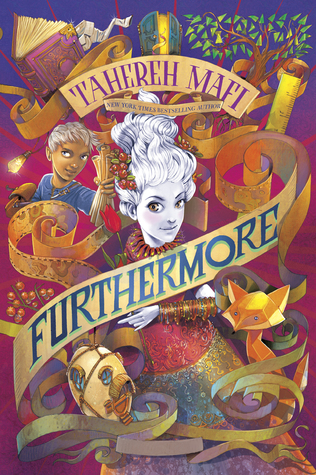 Furthermore
Rating: 4/5
Buy or Borrow: Buy
Source: Copy courtesy of the publisher!
There are only three things that matter to twelve-year-old Alice Alexis Queensmeadow: Mother, who wouldn't miss her; magic and color, which seem to elude her; and Father, who always loved her. The day Father disappears from Ferenwood he takes nothing but a ruler with him. But it's been almost three years since then, and Alice is determined to find him. She loves her father even more than she loves adventure, and she's about to embark on one to find the other.

But bringing Father home is no small matter. In order to find him she'll have to travel through the mythical, dangerous land of Furthermore, where down can be up, paper is alive, and left can be both right and very, very wrong. It will take all of Alice's wits (and every limb she's got) to find Father and return home to Ferenwood in one piece. On her quest to find Father, Alice must first find herself—and hold fast to the magic of love in the face of loss.
I haven't read the Shatter Me series, but it's been on my TBR for a while and I'll get to it eventually...which is kind of the story of my life really, isn't it? ANYWAY I've heard nothing but good things about it, and when I got the opportunity to review Furthermore I couldn't resist. That cover. That synopsis...I had to read it! I love all things original and Furthermore is overflowing with originality!
I feel like it's a bit stupid of me to say the book's colourful, but it really is. It's everywhere in the book, in the imagery and the prose and the world of the book and the people. Alice's mum has green hair for example, it's like I walked in to an anime! I loved the writing, Mafi's storytelling was brilliant and her prose was full of whimsy. I loved the imagery. I loved the way the narrator would address us throughout the book. I loved the atmosphere the language used created. If you've read Unfortunate Events you might get that kind of vibe! The prose also had a distinct fairytale quality to it! Plus an Alice in Wonderland vibe but that was to be expected! But Mafi made it her own, and put her own stamp on it and like I said...originality everywhere!
Furthermore is a lot of fun, the plot, the characters, the world of the book, it was all magical and fun and full of colour. We have two very different worlds, with different politics and rules. I'm not going to lie to you, I did find all the rules of Furthermore confusing and difficult to keep straight, but at the same time, it worked well for the story and for Furthermore and creating an atmosphere for Furthermore, or the vibe of it. I thought both worlds where imaginative and vivid and well brought to life! The magic system was interesting, but I'd have liked some more development to it, although once again, at the same time, too much explanation/development might have slowed down the pace of the book! Either way, the world of Furthermore is a world you can get lost in as you read! There's all these different villages throughout the land, and each is different to the last, which I loved!
I really liked Alice, I felt for her and the situation she was in. She didn't have a great home life after her father left and I felt so much empathy for her. But she didn't let it bring her down or make her less, she was still determined in her goals, and she was a very courageous character. Oliver on the other hand, I wanted to smack! It took me a while to warm up to him because a lot of the time I just really wanted to hit him upside the head! He wouldn't tell Alice anything, and he lied to her and then yeah. I wasn't a fan of the manipulating BUT once they sorted everything out, I loved watching the friendship between the two of them develop, and they made a fun pair to follow!
Furthermore was a magical, fun and original read, with a lot to keep you occupied, sure it confused me at a couple of points but then it was kind of supposed to with all the rules and the different villages and so on! After reading Furthermore I'm even more intrigued to read the Shatter Me series, as I imagine it has a very different tone, and Mafi did this brilliantly! Her storytelling in this book was so brilliantly done that I can't wait to read more of her writing style!