Hey guys!
It's Wednesday again! And I've got two brilliant reads as usual!
First up is a book I stumbled on over on GoodReads and it sounds completely brilliant! I've not read the author's other book but I can't resist this one because magic!
Second is another GoodReads find and ya know...fantasy and there's revenge and some identity stealing, it sounds intriguing!
The War Against The Assholes
Mike Wood is a teenager at a decidedly unprestigious Catholic school in Manhattan, accustomed to solving problems using brawn rather than brains.
One day, his nerdy classmate Hob Callahan persuades him to read a mysterious old book of unknown authorship, The Calendar of Slights. On the face of things, the book is a guide to performing clever card tricks; but in fact, it is a test for recruiting new members to join a secret cell of radical magicians.
Amazingly, Mike passes with flying colours unlocking not only his potential magic powers- but also the door to New York City's vast and hidden underground network of warlocks, sorcerers and mages.
Here, with Hob as his unlikely guide, Mike's role as a steadfast soldier begins. For there is a war being waged. A war between rivalling factions of magicians that has spanned the ages. A clandestine war against the establishment: a war against The Assholes.
The War Against the Assholes is out June 9th, pre-order your copy...here!
Add it to your TBR....here!
Ruined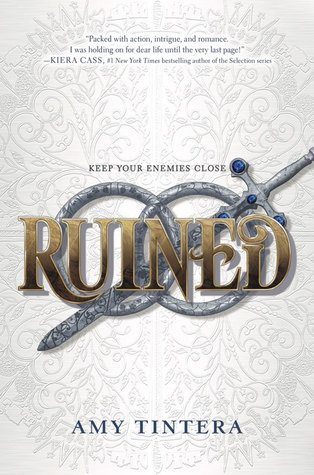 Emelina Flores has nothing. Her home in Ruina has been ravaged by war. She lacks the powers of her fellow Ruined. Worst of all, she witnessed her parents' brutal murders and watched helplessly as her sister, Olivia, was kidnapped.
But because Em has nothing, she has nothing to lose. Driven by a blind desire for revenge, Em sets off on a dangerous journey to the enemy kingdom of Lera. Somewhere within Lera's borders, Em hopes to find Olivia. But in order to find her, Em must infiltrate the royal family.
In a brilliant, elaborate plan of deception and murder, Em marries Prince Casimir, next in line to take Lera's throne. If anyone in Lera discovers Em is not Casimir's true betrothed, Em will be executed on the spot. But it's the only way to salvage Em's kingdom and what is left of her family.
Em is determined to succeed, but the closer she gets to the prince, the more she questions her mission. Em's rage-filled heart begins to soften. But with her life—and her family—on the line, love could be Em's deadliest mistake.
Ruined is out June 2nd, pre-order your copy....here!
Add it to your TBR....here!