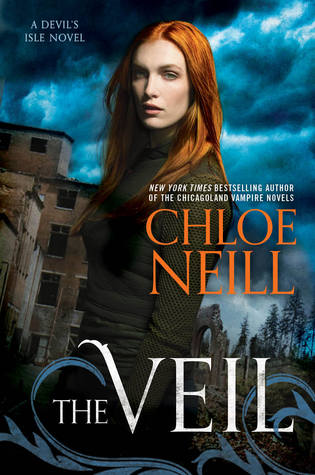 The Veil
Rating: 4/5
Buy or Borrow: Buy
Source: Copy courtesy of the publisher, Gollancz!
Seven years ago, the Veil that separates humanity from what lies beyond was torn apart, and New Orleans was engulfed in a supernatural war. Now, those with paranormal powers have been confined in a walled community that humans call the District. Those who live there call it Devil's Isle.

Claire Connolly is a good girl with a dangerous secret: she's a Sensitive, a human endowed with magic that seeped through the Veil. Claire knows that revealing her skills would mean being confined to Devil's Isle. Unfortunately, hiding her power has left her untrained and unfocused.

Liam Quinn knows from experience that magic makes monsters of the weak, and he has no time for a Sensitive with no control of her own strength. But when he sees Claire using her powers to save a human under attack—in full view of the French Quarter—Liam decides to bring her to Devil's Isle and the teacher she needs, even though getting her out of his way isn't the same as keeping her out of his head.

But when the Veil threatens to shatter completely, Claire and Liam must work together to stop it, or else New Orleans will burn…
The Veil is a fast paced book that pulls you in to an alternate New Orleans and keeps you guessing until the end! It's action packed, there's always lots going on and there's romance as well, pretty much everything you could want in a book! I'm a big fan of Chloe Neill, although I haven't read her Chicagoland Vampire series, it's been on my list and I'm still curious about it even after my "vampire phase" has ended! I loved her Dark Elite series, and I'm forever praying for a fourth book! I've been so excited for this book because it's the start of a brand new series, and I rarely read supernatural/paranormal books anymore as I'm more in to fantasy these days, but Neill writes them damn good!
Neill takes things people have done before and gives them a new twist, and breathes new air in to them. This time round we have a brilliant premise, with the idea that Para's came through to our world, waged war, and now sensitives and paras alike get chucked in to Devils Isle, a kind of prison. There's all these laws about magic and magic is pretty frowned upon, shall we say. Considering my image of New Orleans is one of magic and ghosts and so on, I found this an intriguing premise. I loved the originality to it, there's a load of different creatures in it, and from the ones I saw in this book they have an original twist to them and I'm excited to see more of this world!
Post paranormal war New Orleans and Devils Isle made a nice and intriguing backdrop for the story and it was a very vivid world, one which you can lose yourself in. I had a very clear image in my mind of each of the different settings and I'm eager to explore more of this world both in the Zone and out of it! I'd also like to see more of Devils Isle, because while we saw it a bit, we didn't actually see that much of it! I'd like to see more of what goes on in there, and how things work in there and so on, the contrasts between it and the rest of the Zone where very well done and like I said...it piqued my interest!
The plot for the book keeps you guessing as you try to workout first of all...what's going on, then who's behind everything, there's a couple of different threads woven in and it's a brilliant mystery and adventure. While the book wraps up the plot of this book nicely...there are a couple of threads left hanging to set up the next book! I liked how the next book was set up without taking away from the plot of this book, there's an intriguing plot thread to do with her dad, then the paras and the Veil itself which could go longer than the next book, and then there's another thread to do with another of Claire's family members and while it's a brilliant thread and while I loved the book....this thread just seemed kind of obvious. I also really did feel like it was a bit randomly thrown in there at the end at the last minute, it seemed a bit rushed and shoved in, I think it may have been better if it had been introduced in the second book!
Anyway, there's a brilliant cast of characters to this book, Malachi the angel, Moses the para with a tech addiction, then you have Burke and Darby and Nix and Gavin and so on! They're all brilliant
characters that you want to know more about and I'm sure we'll get to know more over the course of the books! I loved Claire, she made me laugh but then most of the characters did! There's a lot of humour in this book as well as everything else! But Claire was just brilliant, her reactions to everything where genuine, I rooted for her and I'm looking forward to seeing her character develop more in the next book! I loved her friendships with both Gunnar and Tadji and I liked how things where resolved with them at the end. Their interactions where brilliant and they all fit so well together! We see a lot of Gunnar and I loved him the most I think, out of the two, but then we didn't see all that much of Tadji so that could be why! Gunnar was just brilliant and funny and a badass when he needed to be. I'm hoping to get to know Tadji a bit more in book two and see them all working together with the others!
Liam was all broody and perfect and kind of adorable at points. He's the perfect match for Claire, I love how he doesn't bother trying to stop her doing anything just let's her do what she wants to do or what needs to be done. I'm intrigued by his character, he and his brother actually and I want to know more! He's the perfect match for Claire and I liked watching things start to develop even if Liam is going to be difficult for a completely stupid reason, like dude...why bother!? The romance is slow to develop, like I said, but you can't help but root for the couple and there's a couple of cute moments. I can't
wait for book two to see if they'll get one step closer to being together and being adorable!
The Veil is full of action, mystery, romance and loads of supernatural/paranormal beings, I love what the author is doing with all of this and I love the direction the story is going with! If you're here for the romance you'll be in it for the long haul because it's still developing and it's nice to watch! The plot keeps you on your toes, and the plot kicks off fairly close to the start to the book, we're straight in with everything and no hanging about! I'm intrigued to see where this is going to go next and what's going to happen to the characters next, because they're a brilliant bunch and really make the story stand out!