Hey guys,
How's it going? My WFW's are starting to approach the summer months now and this Summer is looking to be full of awesome reads! This week I have two of my most anticipated books of the year!
First up is one of my most anticipated sequels, I completely and utterly loved Witch Hunter, it's one of my favourite books and I've been waiting eagerly to see what's going to happen next!
Second is one of my most anticipated books in general, it's the first of two books and it's by one of my favourite authors and it sounds awesome and I just really, really need it okay!?
King Slayer
Former witch hunter Elizabeth Grey is hiding within the magically protected village of Harrow, evading the price put on her head by Lord Blackwell, the usurper king of Anglia. Their last encounter left Blackwell ruined, but his thirst for power grows stronger every day. He's readying for a war against those who would resist his rule--namely Elizabeth and the witches and wizards she now calls her allies.
Having lost her stigma, a magical source of protection and healing, Elizabeth's strength is tested both physically and emotionally. War always means sacrifice, and as the lines between good and evil blur once more, Elizabeth must decide just how far she'll go to save those she loves.
King Slayer is out June 2nd, pre-order your copy....here!
Add it to your TBR....here!
This Savage Song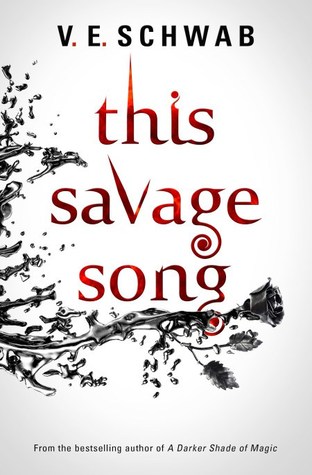 There's no such thing as safe in a city at war, a city overrun with monsters. In this dark urban fantasy from acclaimed author Victoria Schwab, a young woman and a young man must choose whether to become heroes or villains—and friends or enemies—with the future of their home at stake.

Kate Harker and August Flynn are the heirs to a divided city—a city where the violence has begun to breed actual monsters. All Kate wants is to be as ruthless as her father, who lets the monsters roam free and makes the humans pay for his protection. All August wants is to be human, as good-hearted as his own father, to play a bigger role in protecting the innocent—but he's one of the monsters. One who can steal a soul with a simple strain of music. When the chance arises to keep an eye on Kate, who's just been kicked out of her sixth boarding school and returned home, August jumps at it. But Kate discovers August's secret, and after a failed assassination attempt the pair must flee for their lives. In This Savage Song, Victoria Schwab creates a gritty, seething metropolis, one worthy of being compared to Gotham and to the four versions of London in her critically acclaimed fantasy for adults, A Darker Shade of Magic. Her heroes will face monsters intent on destroying them from every side—including the monsters within.
This Savage Song is out June 7th, pre-order your copy...here!
Add it to your TBR....here!