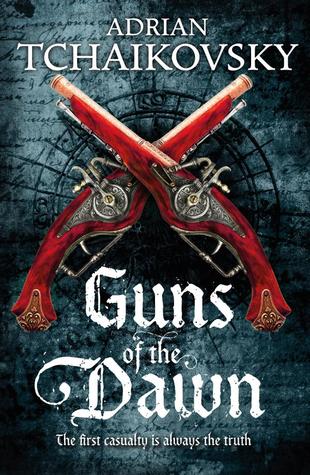 Guns of the Dawn
Rating: 4/5
Buy or Borrow: Buy
Source: Copy courtesy of the publisher!
Denland and Lascanne have been living in relative peace for centuries, allies against any other foe. But then one day the news reaches Lascanne...the Denlanders have assassinated their King and the entire Royal family, and now their newly formed parliament has now turned it's eyes to Lascanne, still ruled by a King and a seeming threat to their new found monarch free way of living.
Now the two are at war, on two fronts, and Lascanne's redcoats, as well as the Wizards are fighting against the Denlanders. Emily Marshwic has watched the war take her brother in law, and then, when the need for more soldiers became greater, she watched the war take her younger brother, newly turned 15.
Then the next proclamation comes. More soldiers needed, from a land with no more husbands and brothers and males left to give. So it's the woman who have to go. One from each family. Many other households are sending servants, but not the Marshwic's, Emily is determined to go herself, and when she's offered a way out of the front, a way that could have saved her brother...she's even more determined to go and do her duty.
Emily braves through the training, making rank early on, and when she reaches the front, she gets a firsthand view of warfare. She has barely enough training to hold a musket, and she's faced with endless slaughter, and it's in the face of this slaughter that Emily finds herself becoming braver than she knew, and elevating up the ranks, taking command when no-one else will and doing a damn fine job. The only thing keeping her sane however, is the cynical Survivors Club, created by her brother in law, and other members of the army on the Levant front.
It's when she's captured by the enemy, she escapes with the help of a tracker and some locals who live in the swamp, that she starts to doubt, starts to wonder if what they know of the war and how it started is actually true.
I PLOUGHED through this, it was SO good, and there where so many echoes of both World Wars for me, after reading about both certain little facts started to stick in my brain, and when I was reading some things rang true, censoring letters, not knowing what was really going on at the front, all sorts.
I'm in such a fantasy mood lately, and so I devoured this! Being a standalone, the world building was very well done, I was just sad I didn't get to see more of it, I wanted to know what happened after the end! It was such an interesting take, war and defeat from the point of view of the losers, the winners changing their tune and rounding up wizards for the execution, it was a fascinating chain of events to read about.
The book drew me in from the first page, constant action, the story moving forward fast and slick. You where glued to the page, reading about all the tactics, vividly living the battles through the characters. I loved Emily, she was easy to connect to, and she was such a badass. I can't even. She suddenly was rising in the ranks because she was taking command and leading her troops whenever there was no other to command. She literally just took charge, and then got promoted and then again, and she was so awesome.
I have to say I loved each member of their club as well, especially Mallen, he was totally cool and had such an interesting background to him! Not to mention the Wizards, I wanted to know more about them too! But yeah, the club where a colourful bunch of characters and the camaraderie oozed off the page and started to infect you as well!
I was never sure what was going to happen next, it was a ride that's for sure, the ending didn't half surprise me either and I was so gutted it ended there because it's a one off book, and like I said, I wanted to see what was going to happen next, what the repercussions would be! Although to be honest, I kinda shipped Emily with Scavian and was a bit sad about who she chose! My ships aren't doing very well lately on all fronts!
An addicting read, Guns of the Dawn has a strong leading lady you root for, plenty of action, fascinating views and tactics and military battles that you have you on the edge of your seat, and will take you on a ride with all the twists and turns! Muskets, magic and mayhem at its finest!