This week I've got a nice little collection of gems for you!
One is the final installment in one of my favourite trilogies by one of my favourite authors, and I'm seriously excited for it's release, I honestly can't wait, I can re-read them again and again!
Another is a new release from one of my favourite authors!
Aaanndd the last one sounds thrillingly different!
Quite a nice little mix, I think, personally!
Jackaby
"Miss Rook, I am not an occultist," Jackaby said. "I have a gift that allows me to see truth where others see the illusion--and there are many illusions. All the world's a stage, as they say, and I seem to have the only seat in the house with a view behind the curtain."
Newly arrived in New Fiddleham, New England, 1892, and in need of a job, Abigail Rook meets R. F. Jackaby, an investigator of the unexplained with a keen eye for the extraordinary--including the ability to see supernatural beings. Abigail has a gift for noticing ordinary but important details, which makes her perfect for the position of Jackaby's assistant. On her first day, Abigail finds herself in the midst of a thrilling case: A serial killer is on the loose. The police are convinced it's an ordinary villain, but Jackaby is certain it's a nonhuman creature, whose existence the police--with the exception of a handsome young detective named Charlie Cane--deny.
Doctor Who
meets
Sherlock
in William Ritter's debut novel, which features a detective of the paranormal as seen through the eyes of his adventurous and intelligent assistant in a tale brimming with cheeky humor and a dose of the macabre.
Jackaby is out September 16th, pre-order your copy here.
Made For You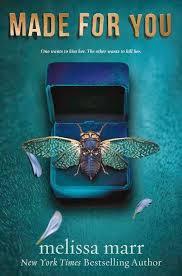 When Eva Tilling wakes up in the hospital, she's confused—who in her sleepy little North Carolina town could have hit her with their car? And why? But before she can consider the question, she finds that she's awoken with a strange new skill: the ability to foresee people's deaths when they touch her. While she is recovering from the hit-and-run, Nate, an old flame, reappears, and the two must traverse their rocky past as they figure out how to use Eva's power to keep her friends—and themselves—alive. But while Eva and Nate grow closer, the killer grows increasingly frantic in his attempt to get to Eva.
For the first time, New York Times bestselling author Melissa Marr has applied her extraordinary talent to contemporary realism. Chilling twists, unrequited obsession, and high-stakes romance drive this Gothic, racy thriller—a story of small-town oppression and salvation. Melissa's fans, and every YA reader, will find its wild ride enthralling.
Made For You is out September 16th, pre-order your copy here.
Unmade
Who will be the sacrifice?
Kami has lost the boy she loves, is tied to a boy she does not, and faces an enemy more powerful than ever before. With Jared missing for months and presumed dead, Kami must rely on her new magical link with Ash for the strength to face the evil spreading through her town.
Rob Lynburn is now the master of Sorry-in-the-Vale, and he demands a death. Kami will use every tool at her disposal to stop him. Together with Rusty, Angela, and Holly, she uncovers a secret that might be the key to saving the town. But with knowledge comes responsibility—and a painful choice. A choice that will risk not only Kami's life, but also the lives of those she loves most.
This final book in the Lynburn Legacy is a wild, entertaining ride from beginning to shocking end.
Unmade is out September 25rd, pre-order your copy here.