Hey guys!
Halloween may have been yesterday...but why not keep on celebrating today? Let's be real, Halloween should be more than one day. Anyway, to celebrate the release of the latest book in the Three Dark Crowns series, Two Dark Reigns, I asked the lovely author Kendare Blake to tell us about some witchy books she's loved recently and can recommend to everyone! I don't know about you guys but I'm a sucker for witchy books...possibly because I grew up watching Sabrina!
So check out the three Witchy books Kendare has loved recently!
This quest of warriors takes you through some of the best witchy landscapes. The Mercies may be on the trail of a beast and glory, but their detour through the domain of the Salt Marsh Witches and the ensuing Witch Wars were among my favourite moments of the novel.
It's a magical caper through the streets of Paris, putting you face to face with goblins and spells and an entire hierarchy of witches. Also it made me hungry for macarons.
This one doesn't come out until February, and it doesn't have witches exactly, but there's definitely something like spellcraft involved in the hatching of a new Phoenix. And there's magic aplenty with so many animages running around. Be on the lookout for it, for sure!
I don't know about you guys, but I'm loving the sound of all three of Kendare's recommendations! I'm definitely going to need to pick them up! Don't forget to check out The Three Dark Crowns series!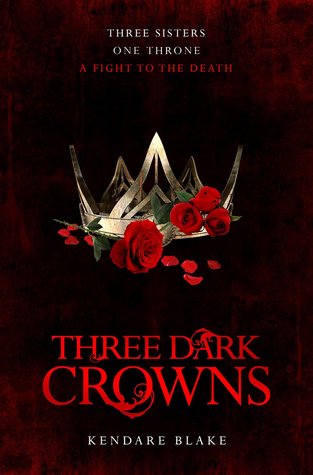 In every generation on the island of Fennbirn, a set of triplets is born—three queens, all equal heirs to the crown and each possessor of a coveted magic. Mirabella is a fierce elemental, able to spark hungry flames or vicious storms at the snap of her fingers. Katharine is a poisoner, one who can ingest the deadliest poisons without so much as a stomachache. Arsinoe, a naturalist, is said to have the ability to bloom the reddest rose and control the fiercest of lions.
But becoming the Queen Crowned isn't solely a matter of royal birth. Each sister has to fight for it. And it's not just a game of win or lose…it's life or death. The night the sisters turn sixteen, the battle begins.
The last queen standing gets the crown.