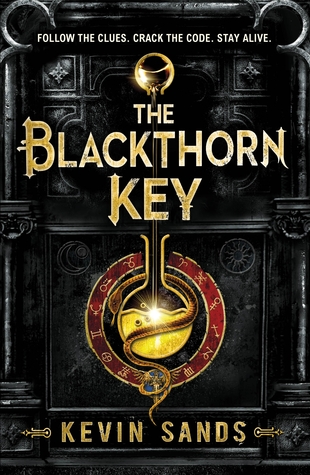 The Blackthorn Key
Rating: 5/5
Buy or Borrow: Buy
Source: Copy courtesy of the publisher!
London, 1665. Fourteen-year-old Christopher Rowe is apprenticed to master apothecary Benedict Blackthorn. In Blackthorn's shop, Christopher learns the delicate secrets of transforming simple ingredients into powerful medicines, potions and weapons. His beloved master guides him with a firm, steady hand - instilling him with confidence and independence that prove increasingly vital as Christopher learns of a mysterious cult preying on the most learned men in London. The murders are growing closer and closer to home and soon Christopher is torn from the shop with only a page of cryptic clues from his master and the unambiguous warning: 'Tell no one'.
Helped by his best friend, Tom, Christopher must decipher his master's clues, following a trail of deceit towards an unearthly secret with the power to tear the world apart.
Guys this was so good! Seriously I enjoyed every single page! I've been reading some
pretty
heavy books recently and
this
was such a nice break, it made me laugh but at the same time it had a complex plot going on and really kept up the intrigue so I was turning pages as fast as possible! I ended up reading it in one sitting after telling myself "I'm just going to read the first couple of chapters".
I'm a history nerd and the
bend
of history and fiction was perfect, just enough history and research to give the book an authentic feel. Although I could have done without some of the smells that
where described and could practically smell wafting off the page! You can easily disappear inside the world of the book, there's no boring pages and pages of historical showing off about how much research the author has done. There's a fair bit of history in the book but like I said....it's not overly done and is there to bring the world to life and make it authentic. I found the Author's Note particularly interesting as well as I had completely forgotten about the differing calendars and so on.
The Blackthorn Key is fast paced, with a quest like vibe, a National Treasure for kids kinda thing. I enjoyed the different clues and trying to work them out along with the characters in the book, as well as work out who the main enemy is. I was completely wrong! The book was full of adventure and humour. I definitely chuckled a fair bit as I was reading, mostly at Christopher and Tom's antics.
It's got to be said, the book had a lot of heart to it with Christopher's relationship with his Master and then his friendship with Tom. It was also kind of sad and heartbreaking in one or two places, but this was balanced out with the humour. Christopher was a likeable character, his sarcasm was spot on and you liked him from the beginning. As you got to know him more, you felt for him more and more as he was struggling in the aftermath of his Masters death. You ended up rooting for him, and your connection to
the character meant that there where some pretty intense scenes of suspense. Bridget the pigeon also deserves a mention I think! Christopher's bird BFF who kept turning up all over the place! It was a sweet touch.
The book has a very nice murder mystery at it's heart. There's lots of threads to it because not everything is as it seems, so it's actually quite complex. These other threads slowly reveal themselves and the plot definitely thickens until you're trying to put all the clues together but still not quite managing to puzzle it all out. There where some surprising twists to the story and then a huge end reveal that had me shouting at the book!
All in all The Blackthorn Key was a fun read with plenty of action and adventure to keep you turning the pages, and complex undertones that gives the book an edge.