Okay, this Wednesday is full of gold.
The first pick is totally Titan's fault, because they sent me a Mercedes Lackey review a while ago and so I was perusing the author's GoodReads page when I came across this and yeah. It sounds waaaay awesome!
The second pick is the NEW FREAKING PRINCESS DIARIES! An adult installment to be specific! I've read Meg Cabot books my entire child/teenage life and Princess Diaries is one of my favourite series ever so I was incredibly excited to find out there was going to be a new one!
The House of The Four Winds
The tiny nation of Swansgaard is a lovely place with abundant natural resources, including the royal family, which has been blessed with twelve daughters and a son. As this boisterous baker's dozen approaches adulthood, the king and queen lovingly tell their daughters, "You must make your own fortune, for we cannot enrich you without impoverishing our people or leaving our lands defenceless, and that we will not do."
Happily, the princesses of Swansgaard are eager to meet this challenge, for they yearn for adventures both near and far from home.
Clarice, an expert swordswoman, is the first to depart. Disguising herself as Clarence, she signs on for a voyage to the New World. The captain is vile and blackhearted, and the crew soon mutinies. Clarice becomes first mate - and finds her heart captured by the new captain, Dominick, who is, to his own surprise, increasingly attracted to Clarence.
Now outlaws, Dominick and his crew turn to piracy - though their hearts are not entirely in it. They soon run afoul of the Pirate Council, who orders them to retrieve the Heart of Light. All who have searched for this great treasure have vanished, with neither ships nor crews ever seen again and no sign of their fates ever discovered.
But none before have carried with them the sorceress Shamal, who stakes a claim of her own on Dominick's heart.
The House of The Four Winds is out June 30th, pre-order your copy....here!
Add it to your TBR....here!
Royal Wedding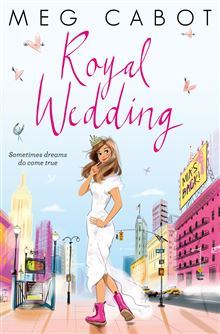 From Meg Cabot, the #1 New York Times bestselling author of the Princess Diaries series, comes the very first new adult instalment, featuring the now grown-up Princess Mia!
Royal Wedding follows Princess Mia and her Prince Charming as they plan their fairy tale wedding - but a few poisoned apples could turn this happily-ever-after into a royal nightmare.
For Princess Mia, the past five years since college graduation have been a whirlwind of activity, what with living in New York City, running her new teen community centre, being madly in love, and attending royal engagements. And speaking of engagements, Mia's gorgeous longtime boyfriend Michael managed to clear both their schedules just long enough for an exotic (and very private) Caribbean island interlude where he popped the question! Of course Mia didn't need to consult her diary to know that her answer was a royal oui.
But now Mia has a scandal of majestic proportions to contend with: Her grandmother's leaked "fake" wedding plans to the press that could cause even normally calm Michael to become a runaway groom. Worse, a scheming politico is trying to force Mia's father from the throne, all because of a royal secret that could leave Genovia without a monarch. Can Mia prove to everyone - especially herself - that she's not only ready to wed, but ready to rule as well?
Royal Wedding is out July 2nd, pre-order your copy....here!
Add it to your TBR...here!