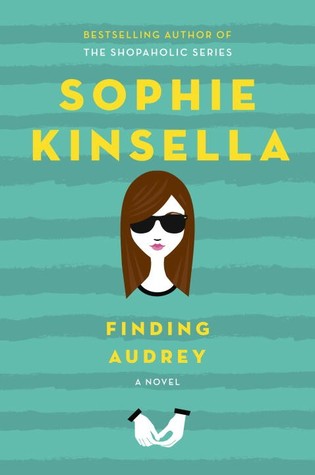 Finding Audrey
Rating: 4/5
Buy or Borrow: Buy
Source: Copy courtesy of the publisher!
An anxiety disorder disrupts fourteen-year-old Audrey's daily life, brought about by something that happened to her at school. She has been making slow but steady progress with Dr. Sarah, but when Audrey meets Linus, her brother's gaming teammate, she is energized. She connects with him. Audrey can talk through her fears with Linus in a way she's never been able to do with anyone before. As their friendship deepens and her recovery gains momentum, a sweet romantic connection develops, one that helps not just Audrey but also her entire family.
Okay so, I don't usually go for contemporary reads like this, but I LOVED the Shopaholic series to another level, so I was super excited to get my hands on her first YA read. A read that is very well written, and easy to read.
If you haven't suffered from an anxiety disorder then you'll learn through Audrey what it's like to suffer from it, they'll sympathise and they'll know what it's like to live with it, those that have suffered from it will be able to sympathise. The entire issue is handled with care and respect, and is very realistically written, I feel like this book is a step towards addressing mental health issues and giving those who haven't suffered a better understanding of what it's like.
I found the book to be humorous, even while it's quite bittersweet and sad. I found myself riveted to Audrey and her
journey, cheering her on, and I loved her totally crazy family. Her entire family were ridiculously hilarious, I mean, her mother, you can so imagine that being someone's mother, I had a friend at school who's mother was exactly like that. If the newspaper said it then it must be true. It cracked me up so much.
Frank and his video games...we all know someone who's Frank, addicted to playing some online RPG game of some description. I'd love to say I haven't spent hours straight playing Pokemon or Zelda, or even....Pottermore, but I'd be lying. In fact, Frank's character gave me the urge to spend the rest of this day playing one such game when I've finished this!
The book was incredibly easy to breeze through in a couple of hours, you where so involved with the characters and what was going on, and you wanted to see what would happen to Audrey, what caused her to suffer from social anxiety, what was going to happen next with her crazy family.
As someone who's been bullied throughout school, and then left that experience with issues of my own, I could relate to Audrey even though I didn't have anywhere near the same experience as her or consequences of it. Either way, it was very easy to relate to Audrey and those experiences.
I enjoyed the fact that a chunk of the narrative came through the transcripts of the documentary she was making for her therapist. It added to the humour, and added a nice break to the narrative and kept it fresh.
Finding Audrey was a brilliant foray in to the YA genre for Kinsella and I hope she makes another contribution to the genre soon.