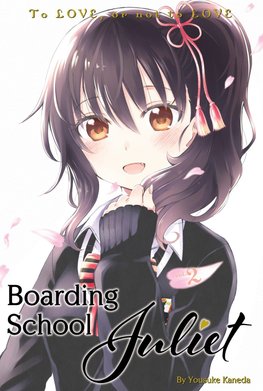 Boarding School Juliet Vol 2
Rating: 4/5
Buy or Borrow: Buy
Source: Copy courtesy of the publisher!
The star-crossed lovers Romio Inuzuka and Juliet Persia have so far managed to keep their relationship a secret. But when Inuzuka's devoted childhood friend accidentally reveals a secret of her own, Inuzuka wonders if he should do the same. Meanwhile, the rivalry between White Cats and Black Doggies continues as the annual sports festival gets underway. The feisty adversaries battle for the title of MVP and a chance to dance with anyone of their choosing--and a few wild cats are pouncing for the lovely Persia!
This volume continues the hilarity, as well as introduces us to some new characters and lets us see more of some of the ones that we've already met! We get to see another side of Hasuki, as well as seeing how she and Inuzuka became such good friends....except of course Inuzuka is feeling bad for keeping a secret from her. I did like getting a look at their friendship and it was resolved a lot faster as well as brought in a lot faster than I thought it would be, but then this series doesn't mess around when it comes to pacing.
We also got to see a decent amount of Maru and.....are they going to give us a love triangle with him?! Anyway, his interactions with Inuzuka are always hilarious and I kind of want them to have a bromance.
This volume also adds a sense of foreboding as we briefly glimpse the Prefects, who I'm sure are going to be popping up very soon. We also meet Aby and his minion Somali, two White Cats from a rival faction to Persia's, which adds another element to the sports festival!
Alongside the more serious moments, we once again get plenty of humour and fun moments. Ridiculous as some of them may be, like you know....a fight over a packed lunch!? I'm loving the pacing to this series, and I can never get bored of it!