Recently I've gotten more excited about blogging again, and so I thought I'd bring back my bookish posts that aren't review related!
One thing I love is checking out upcoming releases to get excited about and I thought it'd be fun to share a few June releases that I'm excited about and you should be too!
Sorcery of Thorns by Margaret Rogerson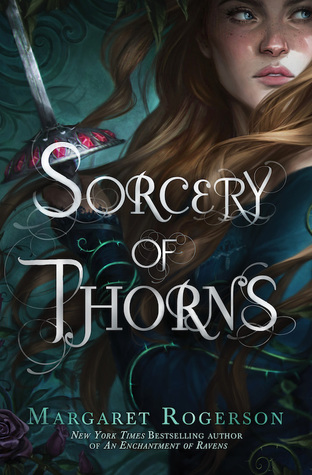 All sorcerers are evil. Elisabeth has known that as long as she has known anything. Raised as a foundling in one of Austermeer's Great Libraries, Elisabeth has grown up among the tools of sorcery—magical grimoires that whisper on shelves and rattle beneath iron chains. If provoked, they transform into grotesque monsters of ink and leather. She hopes to become a warden, charged with protecting the kingdom from their power.
Then an act of sabotage releases the library's most dangerous grimoire. Elisabeth's desperate intervention implicates her in the crime, and she is torn from her home to face justice in the capital. With no one to turn to but her sworn enemy, the sorcerer Nathaniel Thorn, and his mysterious demonic servant, she finds herself entangled in a centuries-old conspiracy. Not only could the Great Libraries go up in flames, but the world along with them.
As her alliance with Nathaniel grows stronger, Elisabeth starts to question everything she's been taught—about sorcerers, about the libraries she loves, even about herself. For Elisabeth has a power she has never guessed, and a future she could never have imagined.
I mean...they had me at sorcerers and magical grimoires to be honest!
Storm and Fury by Jennifer L Armentrout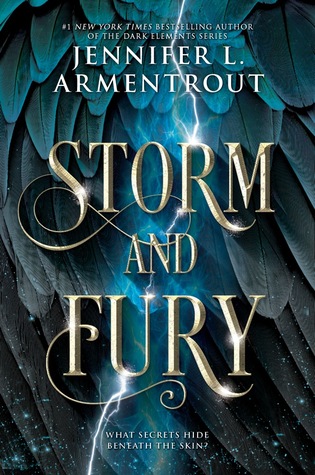 Eighteen-year-old Trinity Marrow may be going blind, but she can see and communicate with ghosts and spirits. Her unique gift is part of a secret so dangerous that she's been in hiding for years in an isolated compound fiercely guarded by Wardens—gargoyle shape-shifters who protect humankind from demons. If the demons discover the truth about Trinity, they'll devour her, flesh and bone, to enhance their own powers.
When Wardens from another clan arrive with disturbing reports that something out there is killing both demons and Wardens, Trinity's safe world implodes. Not the least because one of the outsiders is the most annoying and fascinating person she's ever met. Zayne has secrets of his own that will upend her world yet again—but working together becomes imperative once demons breach the compound and Trinity's secret comes to light. To save her family and maybe the world, she'll have to put her trust in Zayne. But all bets are off as a supernatural war is unleashed…
I'm so excited to get back to the world of demons and gargoyles that Armentrout created in The Darkest Elements trilogy!
Ghosts of the Shadow Market by Cassandra Clare
The Shadow Market is a meeting point for faeries, werewolves, warlocks and vampires. There the Downworlders buy and sell magical objects, make dark bargains, and whisper secrets they do not want the Nephilim to know. Through two centuries, however, there has been a frequent visitor to the Shadow Market from the City of Bones, the very heart of the Shadowhunters. As a Silent Brother, Brother Zachariah is sworn keeper of the laws and lore of the Nephilim. But once he was a Shadowhunter called Jem Carstairs, and his love, then and always, is the warlock Tessa Gray.
Follow Brother Zachariah and see, against the backdrop of the Shadow Market's dark dealings and festive celebrations, Anna Lightwood's first romance, Matthew Fairchild's great sin and Tessa Gray plunged into a world war. Valentine Morgenstern buys a soul at the Market and a young Jace Wayland's soul finds safe harbor. In the Market is hidden a lost heir and a beloved ghost, and no one can save you once you have traded away your heart. Not even Brother Zachariah...
I mean...I already miss the world of the Shadowhunters so this is excellent timing!
Wicked Fox by Kat Cho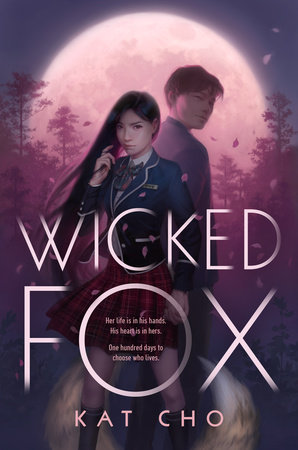 Eighteen-year-old Gu Miyoung has a secret--she's a gumiho, a nine-tailed fox who must devour the energy of men in order to survive. Because so few believe in the old tales anymore, and with so many evil men no one will miss, the modern city of Seoul is the perfect place to hide and hunt.

But after feeding one full moon, Miyoung crosses paths with Jihoon, a human boy, being attacked by a goblin deep in the forest. Against her better judgment, she violates the rules of survival to rescue the boy, losing her fox bead--her gumiho soul--in the process.

Jihoon knows Miyoung is more than just a beautiful girl--he saw her nine tails the night she saved his life. His grandmother used to tell him stories of the gumiho, of their power and the danger they pose to humans. He's drawn to her anyway.

With murderous forces lurking in the background, Miyoung and Jihoon develop a tenuous friendship that blossoms into something more. But when a young shaman tries to reunite Miyoung with her bead, the consequences are disastrous . . . forcing Miyoung to choose between her immortal life and Jihoon's.
This is one of my top
anticipated
reads of the year! I'm so here for Korean mythology and goblins and...this is going to be total excellence!
Soul of the Sword by Julie Kagawa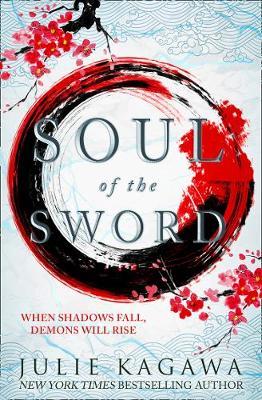 Kitsune shapeshifter Yumeko has one task: to take her piece of the ancient and powerful scroll to the Steel Feather temple in order to prevent the summoning of the Harbinger of Change, the great Kami Dragon who will grant one wish to whomever holds the Scroll of a Thousand Prayers. But she has a new enemy now. The demon Hakaimono, who for centuries was trapped in a cursed sword, has escaped and possessed the boy she thought would protect her, Kage Tatsumi of the Shadow Clan.

Hakaimono has done the unthinkable and joined forces with the Master of Demons in order to break the curse of the sword and set himself free. To overthrow the empire and cover the land in darkness, they need one thing: the Scroll of a Thousand Prayers. As the paths of Yumeko and the possessed Tatsumi cross once again, the entire empire will be thrown into chaos.
I've been so desperate for this sequel, I completely loved the first book it was just completely amazing! The writing, the world building, the characters...I loved every single page and I can't wait to see what happens next!
Natalie Tan's Book of Luck and Fortune by Roselle Lim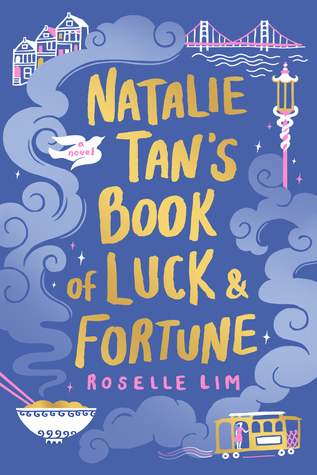 At the news of her mother's death, Natalie Tan returns home. The two women hadn't spoken since Natalie left in anger seven years ago, when her mother refused to support her chosen career as a chef. Natalie is shocked to discover the vibrant neighborhood of San Francisco's Chinatown that she remembers from her childhood is fading, with businesses failing and families moving out. She's even more surprised to learn she has inherited her grandmother's restaurant.
The neighborhood seer reads the restaurant's fortune in the leaves: Natalie must cook three recipes from her grandmother's cookbook to aid her struggling neighbors before the restaurant will succeed. Unfortunately, Natalie has no desire to help them try to turn things around--she resents the local shopkeepers for leaving her alone to take care of her agoraphobic mother when she was growing up. But with the support of a surprising new friend and a budding romance, Natalie starts to realize that maybe her neighbors really have been there for her all along.
I'm in the mood for a contemporary and this one sounds like it's going to be a lot of fun! And you know....make me really hungry because there's a restaurant involved! Plus the author's been sharing these cute little dumplings on Twitter which had me like "CUUUUTE WHAT IS THIS BOOK?!"
The Beholder by Anna Bright
Selah has waited her whole life for a happily ever after. As the only daughter of the leader of Potomac, she knows her duty is to find the perfect match, a partner who will help secure the future of her people. Now that day has finally come.
But after an excruciatingly public rejection from her closest childhood friend, Selah's stepmother suggests an unthinkable solution: Selah must set sail across the Atlantic, where a series of potential suitors awaits—and if she doesn't come home engaged, she shouldn't come home at all.
From English castle gardens to the fjords of Norge, and under the eye of the dreaded Imperiya Yotne, Selah's quest will be the journey of a lifetime. But her stepmother's schemes aren't the only secrets hiding belowdecks…and the stakes of her voyage may be higher than any happy ending.
I stumbled across this on GoodReads and I'm intrigued by the synopsis and after seeing the way it was described by a certain description box (once I finally figured out it was this book) I'm even more intrigued!
Shadow & Flame by Mindee Arnett
From acclaimed author Mindee Arnett comes the thrilling conclusion of the stunningly epic, action-packed, and romantic fantasy adventure about a powerful girl possessed of strange magic, the outcast prince she loves, and the kingdom that has torn them apart.

Kate and Corwin are on the run, desperate for allies in a new world of war among the kingdoms of Rime. As the book opens, Kate suffers a massive loss, one that will shape the struggle for freedom of all wilders and magic folk—that is, if Kate can learn to control her own power.
Another of my anticipated sequels, but also the conclusion to this duology! I actually ended up really loving the first book more than I was expecting, and I'm intrigued to see how it's all going to end!
The Evil Queen by Gena Showalter
Far, far away, in the realm of Enchantia, creatures of legend still exist, magic is the norm and fairy tales are real. Except, fairy tales aren't based on myths and legends of the past—they are prophecies of the future.

Raised in the mortal realm, Everly Morrow has no idea she's a real life fairy tale princess—until she manifests an ability to commune with mirrors.

Look. See… What will one peek hurt?

Soon, a horrifying truth is revealed. She is fated to be Snow White's greatest enemy, the Evil Queen.

With powers beyond her imagination or control—and determined to change Fate itself—Everly returns to the land of her birth. There, she meets Roth Charmaine, the supposed Prince Charming. Their attraction is undeniable, but their relationship is doomed.

As bits and pieces of the prophecy unfold, Everly faces one betrayal after another, and giving in to her dark side proves more tempting every day. Can she resist, or will she become the queen—and villain—she was born to be?
I love Gena's YA books and I particularly loved her Alice in Wonderland vibe series Alice in Zombieland! So I'm excited to see what she's going to do with the Evil Queen and I'm expecting seriously good things from it!
The Chosen by Taran Matharu
Throughout history, people have vanished with no explanation. A group of teenagers are about to discover why.
Cade is settling into a new boarding school, contemplating his future, when he finds himself transported to another realm. He soon discovers their new world is populated with lost remnants from the past: prehistoric creatures, ancient relics, and stranger still — people. Overwhelmed by his new surroundings, Cade has little time to adjust, for soon he and his fellow classmates are forced to become contenders in a brutal game, controlled by mysterious overlords.
But who are these beings and why did they choose these teens? Cade must prepare for battle . . . because hiding is not an option.
I loved The Summoner series as you guys know, and this first book in a brand new series sounds like it's going to be just as original and imaginative as Summoner was! Plus, if I've been informed correctly, there's dinosaur monsters in here!?
The Modern Faerie Tales by Holly Black
Sixteen-year-old Kaye is a modern nomad. Fierce and independent, she drifts from place to place with her mother's rock band until an ominous attack forces Kaye back to her childhood home. There, amid the blue-collar New Jersey backdrop, Kaye finds herself an unwilling pawn in an ancient and violent power struggle between two rival faerie kingdoms—a struggle that could very well mean her death.
This is the bind up of all three books in the trilogy and I've been told/shouted at to read this by Jess because I still haven't! But she reliably informed me it's a cracking series so I can't wait to dive in! I'm so weak for faeries!
Dark Shores by Danielle L Jensen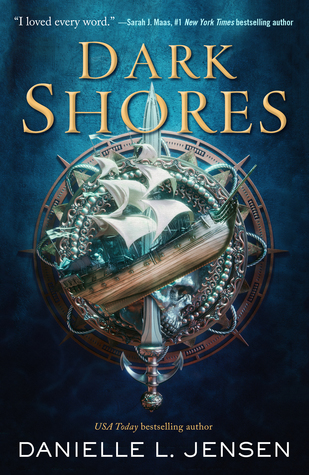 In a world divided by meddlesome gods and treacherous oceans, only the Maarin possess the knowledge to cross the Endless Seas. But they have one mandate: East must never meet West.
A PIRATE WITH A WILL OF IRON
Teriana is the second mate of the Quincense and heir to the Maarin Triumvirate. Her people are born of the seas and the keepers of its secrets, but when her closest friend is forced into an unwanted betrothal, Teriana breaks her people's mandate so her friend might escape—a choice with devastating consequences.
A SOLDIER WITH A SECRET
Marcus is the commander of the Thirty-Seventh, the notorious legion that has led the Celendor Empire to conquer the entire East. The legion is his family, but even they don't know the truth he's been hiding since childhood. It's a secret he'll do anything to protect, no matter how much it costs him – and the world.
A DANGEROUS QUEST
When an Empire senator discovers the existence of the Dark Shores, he captures Teriana's crew and threatens to reveal Marcus's secret unless they sail in pursuit of conquest, forcing the two into an unlikely—and unwilling—alliance. They unite for the sake of their families, but both must decide how far they are willing to go, and how much they are willing to sacrifice.
You had me at pirate and dangerous quest to be honest, but more importantly I fell in love with Danielle's Stolen Songbird books so I'm excited to see what she's going to do with this!