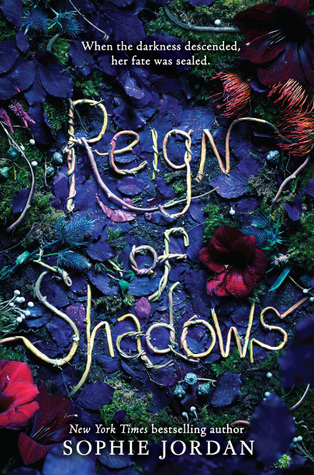 Reign of Shadows
Rating: 3.5/5
Buy or Borrow: Buy
Source: Copy courtesy of the publisher!
Seventeen years ago, an eclipse cloaked the kingdom of Relhok in perpetual darkness. In the chaos, an evil chancellor murdered the king and queen and seized their throne. Luna, Relhok's lost princess, has been hiding in a tower ever since. Luna's survival depends on the world believing she is dead.
But that doesn't stop Luna from wanting more. When she meets Fowler, a mysterious archer braving the woods outside her tower, Luna is drawn to him despite the risk. When the tower is attacked, Luna and Fowler escape together. But this world of darkness is more treacherous than Luna ever realized.
With every threat stacked against them, Luna and Fowler find solace in each other. But with secrets still unspoken between them, falling in love might be their most dangerous journey yet.
When I was a bit younger, I was a huge fan of Jordan's Firelight trilogy! So I was super excited to get to read a new series from her. As soon as I started to read, I was hooked in. The world and the history to it was intriguing and shrouded in darkness and danger. Then a few chapters in.....there was an interesting plot twist that had me taking another look at how I viewed those first few chapters! I loved it. It made Luna even more admirable.
I really liked Luna. She was confident, determined and brave and determined to do what was right, even if it meant giving up everything she wanted. She wasn't helpless or an invalid. I really admired her as a character and enjoyed reading about her. Fowler....poor old Fowler. He hasn't had the best time so you can't really blame him for being the way he is. He's all about self preservation but you see him changing over the course of the book right up until the end.
I really liked the dual POV, it let us get to know both characters and their motivations better, especially in Fowler's case. I liked the romance between the two and watching it blossom and it was totally cute. There where a few things I didn't see coming throughout the plot, and a few that I did, and there was a nice fast pace to the plot, I was a bit sad that the book was so short, but I'm excited for the next one.
I got some definite Tangled vibes from the book, Fowler and Luna kinda reminded me of Rapunzel and Flynn a little bit! Reign of Shadows left me wanting more and curious to see what will happen next!