Hey guys!
It's been a while since I've done a Wishing For Wednesday post, I know, but not only has there not been that many books coming out recently that I've been really excited for buuuuttt I've been super busy! I was going through the review books quite quickly until I hit a block with Empire of Storms, and then I was on set the other week and there where costume fittings and just general business! If I can I'll tell you guys about it sometime, if you're interested!
Anywaaaaay I'm back with some exciting books this week, check em out!
Poison's Kiss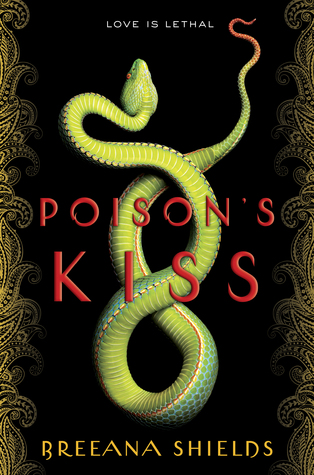 Marinda has kissed dozens of boys. They all die afterward. It s a miserable life, but being a visha kanya a poison maiden is what she was created to do. Marinda serves the Raja by dispatching his enemies with only her lips as a weapon.
Until now, the men she was ordered to kiss have been strangers, enemies of the kingdom. Then she receives orders to kiss Deven, a boy she knows too well to be convinced he needs to die. She begins to question who she s really working for. And that is a thread that, once pulled, will unravel more than she can afford to lose.
This rich, surprising, and accessible debut is based in Indian folklore and delivers a story that will keep readers on the edge of their seats.
Poison's Kiss out January 10th, pre-order your copy...here!
Add it to your TBR....here!
Windwitch
Sometimes our enemies become our only allies
The Windwitch Prince Merik is presumed dead, following a lethal explosion. He's left scarred but alive and determined to expose his sister's treachery. Yet on reaching the royal capital, he's shocked to find it crowded with refugees fleeing conflict. Merik haunts the streets, fighting for the weak. This leads to whispers of a disfigured demigod, the Fury, who brings justice to the oppressed.
Hunted by the Cleaved, Iseult is struggling to stay free while she searches for her friend Safi. When the Bloodwitch Aeduan corners Iseult first, she offers him a deal: she'll return what was stolen from him, if he locates the Truthwitch. Yet unknown to Iseult, there's a bounty on her head - and Aeduan intends to claim it.
After a surprise attack and shipwreck, Safi and the Empress of Marstok barely escape with their lives. They find themselves amongst pirates, where a misstep could mean death. And the bandits' next move could unleash war upon the Witchlands.
Windwitch is out January 12th, pre-order your copy...here!
Add it to your TBR...here!