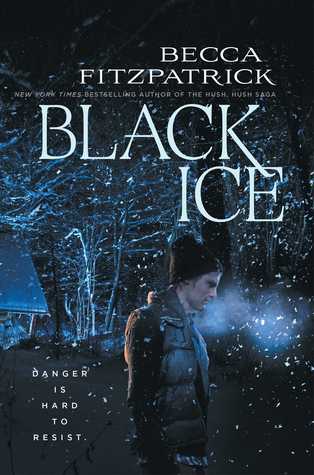 Black Ice
Rating: 4/5
Buy or Borrow: Buy!
Source: Copy courtesy of NetGalley
Britt Pheiffer has trained to backpack the Teton Range, but she isn't prepared when her ex-boyfriend, who still haunts her every thought, wants to join her. Before Britt can explore her feelings for Calvin, an unexpected blizzard forces her to seek shelter in a remote cabin, accepting the hospitality of its two very handsome occupants;but these men are fugitives, and they take her hostage.
Britt is forced to guide the men off the mountain, and knows she must stay alive long enough for Calvin to find her. The task is made even more complicated when Britt finds chilling evidence of a series of murders that have taken place there and in uncovering this, she may become the killer's next target.
But nothing is as it seems, and everyone is keeping secrets, including Mason, one of her kidnappers. His kindness is confusing Britt. Is he an enemy? Or an ally?
So, I'm a massive fan of the Hush Hush series, so when I saw this new book from the author on NetGalley, I had to grab it because I was so excited for more from the author and I was excited to see what direction this was going to go in!
Black Ice really draws you in, straight from the little chapter with the girl being murdered, you instantly want to know who did it, and why, and from that point on, you spend the entire book trying to work out who the killer is, I will admit, at about 75% I had worked out who Mason/Jude was, his relation to the dead girl, and who the killer was, but it was a merry chase. Every male character I'm like "WAS IT YOU?!". Black Ice keeps you guessing the entire way through the book, it keeps you intrigued, and it doesn't make it easy to guess. You also have the little puzzle of why Mason and Shaun are running and who they really are to work out near the beginning as well.
The book was fairly action packed, there was a moment when it slowed down, but for the most part there was action all the way through and plenty going on. I loved the romance, it's understated, subtle, not the whole point of the story. The story is a thriller, with hints of romance, and I loved how Fitzpatrick kept it as a thriller and didn't let the romance over power the story. It was a very believable romance, very natural and slow to develop and happened organically in an unusual situation.
I loved Britt, we spend the book fully in her shoes, feeling what she feels and being totally connected to her. You're right there with Britt trying to work out what to do, when she thinks Jude is the murderer, you think he is too (unless you're me, in which case you have a slight doubt....very slight...okay...not so slight) and I loved that at that point Britt reacted very naturally, like it was a weird situation, but I was so impressed with how she was fully like "He's a murderer and I slept with him" instead of letting the budding romance blind her, even if she was wrong, The same can be said for the actual killer. I thought she was so strong, and she was a real survivor, she wasn't a damsel in distress, she kept on being smart, making plans, and surviving, and it made me totally love her.
I didn't like Korbie at all, if I'm honest, she was kind of a shitty friend to Britt, the girl who's been her BFF and actually kept her alive ya know? She didn't believe Britt about the murderer and nearly got her killed. She wasn't in it much though, so it's all good!
I just can't get over how much of a rollercoaster this book is, I mean I liked Calvin at first and was like "yeah get back to Calvin *insert romantic music here* then obviously, I changed my tune! I thought Mason was a fantastic male lead, even when I thought he was a bad guy he was trying to protect Britt, and he helped Korbie out, not that she appreciated it, and he was willing to protect her and the ending was so sweet. Shaun was also a fantastic villain, he had the whole "I seem charming but check out the bad vibes I'm throwing off that are oozing off the page".
Fitzpatrick is fantastic at creating characters, main and secondary, who jump off the page, come alive, and make you feel all kinds of emotions, whether it's hatred, annoyance, love, or whatever. You always feel a connection to the female lead, and I just love how Fitzpatrick creates these characters that are full of depth and you can't work out what their angle is.
Black Ice is a thriller with romantic undertones, the plot is complex and very twisty, it'll keep you guessing and it'll take you on a rollercoaster of a ride, the characters will capture your attention and the setting is so vivid it could be used to cool off in Summer! I'm excited to see what Fitzpatrick is going to do next!