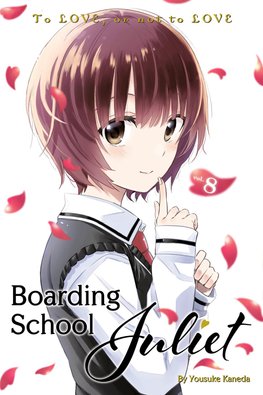 Rating: 4/5
Buy or Borrow: Buy
Source: Copy courtesy of the publisher in exchange for an honest review!
The annual Dahlia Academy School Festival is in full swing, and the day Inuzuka has been waiting for has finally arrived: he gets to go on a festival-patrolling date with his beloved Persia! But for these star-crossed lovers, nothing is ever as easy as it seems, and when an unexpected visitor suddenly arrives for Persia, the two are reminded of just how forbidden their secret relationship is...
Can Inuzuka's and Persia's love prevail, or is the idea of a White Cat and a Black Doggy living happily ever after nothing more than a fool's errand?
You might recall the misunderstanding that was taking place at the end of the last volume, leaving us all on a cliffhanger? Well we open this volume with the fall out from that and we finally get some answers as to why Maru is so obsessed with Julio! I've got to say, I've liked slowly getting to see more of Maru, and slowly getting to see a slightly softer side to him than the image he portrays.
There's plenty of hilarity to the volume as we experience the final day of the school festival and get to sample the fun that it has to offer before it starts to draw to a close. The arrival of Persia's mother makes it all the more dramatic and makes for a fun surprise, at least for us! It was interesting to me, to see what Persia's mother is like, but she has an ominous story to tell. The story of a previous Black Doggy/White Cat couple and the consequences of their relationship shakes Romio and Persia, but may also be a little bit of foreshadowing for coming volumes.
This volume introduces us to new character Kogi, Hasuki's younger brother. I'm not going to lie, he reminded me a little bit of Edward Elric what with how salty he is about his height. He's adorably protective of his older sister, however, and gives Inuzuka a bit of a wake up call as to how his friendship with her has deteriorated a little bit and as to how she feels about things.
We have a smidge of ridiculousness thrown in to this volume too, relatable as Persia is in the midst of it. Things take an interesting and exciting turn towards the end of the volume as winter break rolls around. Persia has decided to travel with Inuzuka to his home, and she gets to experience Touwa meaning that we get to do the same! It's quite exciting to see a setting other than the school, and to get to experience one of the countries involved in this rivalry. But Persia going with him adds a sense of jeopardy to the whole trip as we wait to see if they can pull it off or if she'll be discovered! Alongside all of that we get to meet a few more new characters as we meet and get to know Inuzuka's family! I've been curious about their families, and it's a nice touch to do both introductions in the same volume!