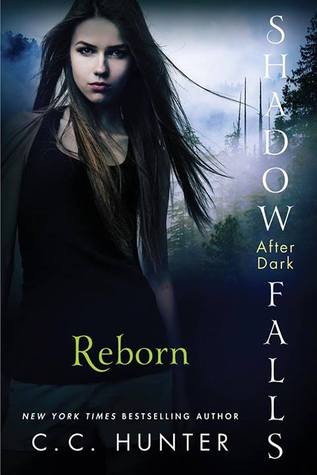 Reborn
Rating: 5/5
Buy or Borrow: BUUUUYY!
Source: Book Depository
Okay. I wasn't going to review this, I bought this book because it's one I've been eagerly awaiting for aaagggeessss and aggggeesss, and I mean...it's just so good I have to gush! As you can probably tell, I'm a huge fan of the Shadow Falls series, I seriously plowed through all of them except the final one, reading one a day, then when the last book came out I bought it on Kindle so I could read it ASAP while I waited for a physical copy of the book to arrive. I've been anticipating Reborn for so long, and I loved the novella that came before it, so when it finally arrived, I was sad to have to put it to the side while I got on with the books I actually have to review. I finally finished this last night and it was so worth the wait!
I love Della, don't hate me, but I think I may love her more than Kylie. I connected with Kylie, don't get me wrong, and I liked her character, but with Della I connected a hell of a lot with her on an incredibly personal level which meant for me, this was an emotional read. Because of how much I can relate to Della and connect with her, as well as how much of a badass she is obviously, she just might be my new favourite. I loved how we got to have a closer look at her, and she what makes her tick, and find out more about her and why she is the way she is.
As usual with Hunter, all characters where written with depth, and they all jumped off the page. They really are a great cast of characters, let's be honest! I just love how they all have different personalites as well as the dynamic between Kylie, Della and Miranda.
Speaking of, we get to see plenty of Kylie and Miranda, and we get to see them through Della's eyes, which is intriguing as we've only had Kylie's perspective before, it was great to see what she thinks and feels about her friends, when we're only used to just getting glimpses of Della. I still love these three and their friendship and it was great to see it continued to the same standard as it was in the other books.
Don't worry Kylie and Lucas fans, we get to see them together being all cute and fuzzy and again, the new perspective is intriguing! We also get to see Miranda and Perry! Derek and Jenny....we watched this start to occur in the last book, and in this book we get to see plenty of Derek and Jenny, and watch their relationship grow and develop! SO MUCH ROMANCE I KNOW BUT IT'S ALL CUTE SO WHATEVER!
Reborn doesn't lack anything, it's written to the same standard as the first 5 books, there's no dropping the ball and not writing something as well, or writing something wrong or whatever. Everything is a perfect continuation, just from a different perspective.
As always the world building is fantastic, I have a very clear layout of Shadow Falls and the town in my head, and when you read any of the books, let alone Reborn, you can picture everything so very clearly, it's so cinematic and atmospheric you can easily picture it on the big screen. And wish a movie was happening. Please. I'll settle for a TV show?
Reborn sucks you in from the first page, and to be honest, I had to force myself to slow down so I didn't read this in one day! I was glued to the page, and every time I looked up, reality was a disappointment, because quite frankly, I want to go to Shadow Falls!
I loved Steve. I love his relationship with Della. I love how he's so understanding of her, and how he gets her and knows why she's scared of falling for him, I love how he is with her and is protective. I THINK I'm Team Steve. But then....Chase did kinda save her life and go through pain for her, and he isn't a total dickbag, so my stance could change, but for NOW, let's go with Team Steve...then again he did let Jessie kiss him SO, I might just wait to hold my judgement!
Della and Steve's romance is written perfectly, he's kinda perfect. Reading them together just gives you the warm and fuzzies and makes you kinda jealous! Although you don't want to bang their heads together, because Della's all "you're not my boyfriend" and I was like "giiiirrllllll".
Now. There is so obviously going to be a love triangle in the next book BUT it's going to be an unusual one from an interesting perspective. What I loved about this is that Chase pops up, and you thought the triangle was going to start immediately, but throughout the book Della admits Chase is hot BUT she wants Steve. She only wants Steve, which I enjoyed because it makes a change!
Now the whole "bonding" thing is going to add an interesting dynamic to Steve and Della's relationship in the next book, because as I said, Della wants Steve, but from what we can see the "bonding" has changed Della's feelings for Chase and is going to cause trouble, which will be interesting because Della can't control it, it's technically the bond.
Oh, I nearly forgot, so much cute with Holiday and Burnett and I LOVED Burnett's relationship with Della, and I just see him as the kind of father figure Della has lost right now!
I loved the focus on Della's relationships with her family, and I was so devastated about Chan, and most of the time I just wanted to cry for her because of how she's treated and oh GOD. FEELS.
Another thing I loved about the book was how Della was all "YOU THINK YOU'RE SUPERIOR BECAUSE YOU HAVE A PENIS?!" and took no shit from any blokes, and called them out on their "you need protecting" and was all "girls are just as good as boys". I love how she dealt with sexism, Della is just such a good role model and the message of the book was so current to the time and important.
Which brings me on to the writing. The language used by the characters was current and up to date without being full of ridiculous phrases and stuff. The book was fast paced from the beginning with excellent flow because there was no overload of information bogging it down at any point. The narrative was engaging and entertaining, as well as emotional. You seriously can't put this book down, unless, like me, you force yourself to!
The plot drew you in from the beginning, there was some foreshadowing that you can pick up on that would tell you what's going to happen BUT I was too caught up in the story and "omg what's next" to pick up on it until an event had happened and I was all "oooohhh", that's not to say it was totally unpredictable, there where a few twists that I didn't get, and that where a surprise, but there where also a few that I did guess and did see coming, even if it wasn't until a page before it happened!
The plot gives us a deeper look at the Vampires of the Shadow Falls world, and in to a new aspect which explains alot about Burnett and is going to be fantastic to see explored from Della's view in the next book. We get to hear a bit more about the Vampire Council, and see more of the FRU. It was intriguing the entire way through.
There where kind of two plot threads, if you will. There was the whole murder, and Della trying to prove herself to Burnett and solve it. Which was made doubly interesting by the fact that Della can see ghosts, which is unheard of in Vamps, except for Burnett. That's an interesting aspect, and brings the creepy present in the other books!
THEN there's the whole Della trying to find her Uncle because her Dad's a douche, then the looking for Chan and what's wrong with Della throughout the book, and then you find out she's a rare bloodline and she gets to be turned twice, sort of, and only Chase can save her because he's already been through it but they'll be bonded thing. OH and the huge OH MY GOD moment when you find out Della's dad was a murder suspect.
I still love the whole premise of the series, the whole camp for Supernaturals masquerading as a Camp for troubled teens. I love reading about the environment, the different types of Supernaturals, and the romantic relationships, each different from the others.
Reborn is a fresh look at a well known and loved world, with well loved characters with a unique premise, and from a different perspective.
Reborn blends together the supernatural with murder, mystery, creepy ghostly activities, friendship, family, romance and action! It's fast paced, there's plenty going on for everyone, there's total OMG moments and you'll be left wanting more! I have no idea what I'm supposed to go and do until October now!
Fans of the series won't be disappointed at all, in fact, they're gonna love getting to know Della better and riding this emotional rollercoaster with her! Reborn has perfectly set up the romance, love triangle and mystery for the next book, but not overshadowing the story being told, almost as an afterthought!
Reading Reborn is like talking to an old friend for the first time in ages, you slip back in to this familiar world with familiar people, but gain new perspective!
With that....my rambling is done, and I'm off to try and coax away this book hangover!