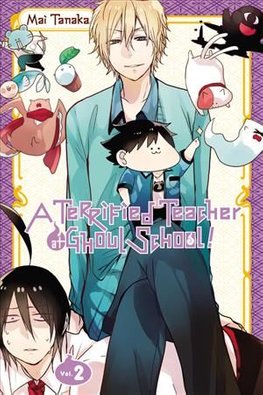 A Terrified Teacher at Ghoul School Vol 2
Rating: 5/5
Buy or Borrow: Buy
Source: Copy courtesy of the publisher!
Haruaki Abe is the kind of guy who wouldn't say boo to a goose. But when he starts his teaching career at a high school full of creatures that go bump in the night, he soon discovers that his students have no such qualms, and they'll have him screaming "eeeeeeek"!
This volume takes us on quite the journey with the characters, as we start off with the youkai enduring "Physical Fitness Day", which is kind of hilarious with the eyesight tests and the animal youkai having to get shots and poor old Haruaki having to help out. Then the class get to go on a field trip to the real world for a spooking lesson which as you can imagine...is all kinds of hilarious and it was fun to see the youkai using their different powers!
Haruaki takes the opportunity to head off home and the kids lecturing him about what not to do was funny AF. What was even funnier was them following him and mistaking his brother for him, and his brother acting all cool and they're like "Don't you dare sully our Seimei-kun's name" or at least, Maizuka was, and he was hilarious.
Sano and Haruaki are trying to hide his families origins from the others, and his mother is in on the plan too. His brother is not happy with the situation in general and is very protective of Haruaki. Which is why he has an issue with the students getting roped in to helping out with the festival. Hijita, Maizuka, Sano and Zashiki all end up at Haruaki's home and get to meet his family but his brother tries to throw them out and make Haruaki quit....hinting at something dark to do with Haruaki's power in the process.
We get some insight in to Haruaki and why he has no friends...I'm looking at you Ame. Ame also provides us with some interesting information on Haruaki's power and how strong it is and where it came from. I was hoping there would actually be some weight to his power, and it might have a part to play in the plot rather than being a throwaway mention in one volume, and it would seem like my hopes are coming true. Which I'm excited to see! There's humour, but it seems like there's going to be some serious substance to the plot other than just

humorous

antics, which I don't have a problem with, but I'm intrigued to see what could happen when his power is brought in to pay.
Sano, in his own way, was quite heart warming this volume, offering to look out for Haruaki, he's a big softy really! There was so very nearly a heart warming moment towards the end, before it got turned in to a gag, which kind of made it funnier to be honest!
Volume 2 is another hilarious volume, with hints at an interesting heritage for Haruaki, not to mention his powers! We also get a look at his family and the dynamics between them all that have shaped him in to the character he is, plus the students are a bit more soft than they appear at first glance!