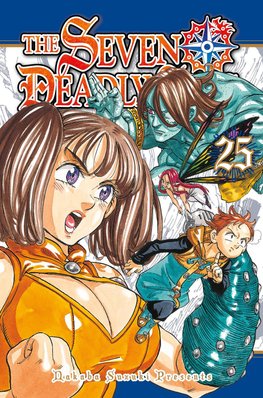 The Seven Deadly Sins Vol 25
Rating: 4/5
Buy or Borrow: Buy
Source: Copy courtesy of the publisher!
The Seven Deadly Sins may have ended the tyranny of The Ten Commandments for now, but that doesn't mean all is peaceful in the kingdom. Separated from the rest of The Sins, King and Diane strike a deal with former Commandments Gloxinia and Drole, and agree to undergo special training--which sends them to a Britannia 3,000 years in the past, right before the end of the Holy War! Can the pair navigate this strange past--and a threat more powerful than The Ten Commandments?
Okaaaaay, Gerhard immediately piqued my interest as soon as the volume opened, referring to some mysterious event that has something to do with Gloxinia. This volume as a whole kind of blew my mind because there are some reveals this volume that shocked me and changed my perspective on things.
The fast pace continues and it's King and Diane's time to shine as they battle it out with Gloxinia and Drole. But there's a shock twist and we get a nice flashback to 3000 years ago and what went down with them, not to mention a familiar face and Meliodas. I am definitely intrigued by the new information on Meliodas.
There's plenty of action which surprised me as I thought things might slow down after the last volume! But we get so much information and so many plot twists and reveals and blanks filled in it...it was a pretty epic volume! Not to mention the bonus story with Meliodas, King and Ban that had me chuckling!