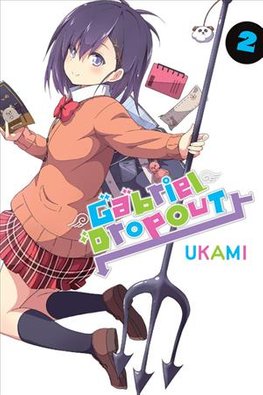 Gabriel Dropout Vol 2
Rating: 3/5
Buy or Borrow: Buy
Source: Copy courtesy of the publisher!
Gabriel's lazy adventures in the human world continue as she gets roped into going to the beach!
Poor old Gabriel just wants to chill at home, but she gets dragged to the beach once exams are over and done with and vacation starts. But that's not all for this volume, we get to see how Gabriel and Vignette first met, Vignette and Raphy get to know each other....and then it's Halloween so Satanya is loving life.
The art is seriously so super cute, I can't even. The story and the characters are hilarious, there's plenty of humour packed in. I have to say, I think Satanya is my favourite and Gabriel is just so damn relatable! The banter between the two is completely hilarious too! I'm so looking forward to seeing more of the two of them, they're my favourite part of the series!
While the stories are largely separate there are little threads that link them to each other, although there's no overarching plot and I'm not sure there will be! This volume does let us get to know the characters a little better, and see the interactions between them some more though!