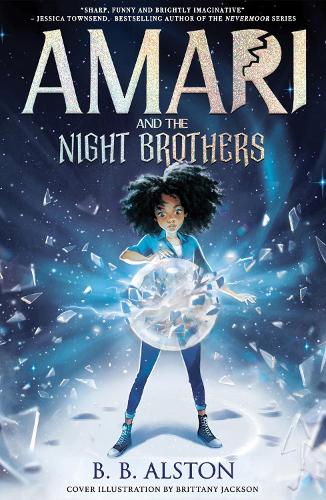 Rating: 5/5
Buy or Borrow: Buy!
Source: Copy courtesy of the publisher in exchange for an honest review!
Amari Peters knows three things.
Her big brother Quinton has gone missing.
No one will talk about it.
His mysterious job holds the secret . . .
So when Amari gets an invitation to the Bureau of Supernatural Affairs, she's certain this is her chance to find Quinton. But first she has to get her head around the new world of the Bureau, where mermaids, aliens and magicians are real, and her roommate is a weredragon.
Amari must compete against kids who've known about the supernatural world their whole lives, and when each trainee is awarded a special supernatural talent, Amari is given an illegal talent – one that the Bureau views as dangerous.
With an evil magician threatening the whole supernatural world, and her own classmates thinking she is the enemy, Amari has never felt more alone. But if she doesn't pass the three tryouts, she may never find out what happened to Quinton . . .
It's brutal honesty time when it comes to this book, I'm not going to hold back and I'm going to tell you straight up that this is not only one of my favourite books of the year...but one of my ultimate favourite books! I completely fell in love with this book and I didn't want it to end at all. I'm so, ridiculously excited for this series and to see what it's going to throw at us next because it blew away all my expectations and didn't even end how I thought it would and changed my assumption of how this series was going to go!
I know I say this a lot, about books grabbing me from the start but this one truly does pull you in, grab you and keep a tight hold. I whizzed through the first few chapters because I couldn't put it down and that was a running theme throughout the book! I found it almost impossible to put down, I kept wanting to read just one more chapter and then one chapter turned into two. I had to know what was going on and I was so intrigued by the plot and the world being built. I was just as amazed by everything being shown to us as Amari was! I also think this is the fastest that I've ever been hit with the feeling of wanting to crawl into a book, both to experience the world and deliver a smackdown to a character that really deserved it! I was seriously only a few pages in!
Honestly, this book is completely brilliant, I giggled so much, gasped in wonder and had so much fun reading this book. It's a little bit like Men in Black but for Supernaturals instead of aliens and there were so many awesome departments and imaginative elements to it.
Amari I rooted for from the beginning, I can't speak as to accurate representation but I really loved having a black main character and I personally think the oppression she encountered because of her skin colour were wonderfully portrayed and will certainly make readers think about their own actions and prejudices. I just wanted Amari to get a cool badge and be a hero and see that she is just as good and amazing as her brother. I loved her so much, she's already claimed a place in my heart as one of my favourite characters, she's got the snark and the courage that I love and find inspiring. I got a little emotional when she started to accept herself and discover for herself that she's holding herself to an impossible standard and that she's good enough just as she is. It's a whole journey that really hit me in the heart and made me do some thinking! I just feel like Amari is a really fun, fresh voice throughout the book.
Speaking of her brother, I have to say I loved the relationship between Amari and Quinton. I've read so many books with the characters hating their siblings, or falling out with them constantly that I really enjoyed reading about a strong sibling bond. I just wish we could see more of him! I'd also love to see more of Elsie the weredragon and Amari's best friend! I felt like she was a really great support to Amari, willing to help her unquestioningly and Amari encouraged her to be courageous in her own way as a result of that. Dylan...I was fifty fifty on him for most of the book and there's a couple of great surprises with him that I wasn't expecting because Alston lured me into a false sense of security even though I had a little voice niggling at me. When it comes to his twin Lara...she's a nasty piece of work but after the end of the book I'm quite hoping she might be redeemable. My point is, the cast of characters are brilliant and each really stood out and made me feel various different things.
Amari and the Night Brothers is so imaginative, there's all different kinds of magician including technology! We've got all kinds of creatures with intriguing history to them and I'm going to hold out some hope for a companion book about them all. It's wonderfully plotted, with a great pace to it and incredibly well thought out and entertaining.
I read this book so easily, I never wanted to put it down and I had a burning desire to get back to it and read until stupidly late at night. If University and assignments weren't a thing, I 100% would have done an all nighter for the first time in years to read this all in one go. I'm going to be brutally honest once again and say that I found this book to be a great comfort to me. I'm sure I'm not alone with finding this new lockdown a little tougher than the others and combined with University I've been pretty miserable lately. But luckily, I picked this book to read at the right time and took so much comfort in being able to vanish into this world of magic and the supernatural. This wonderful world that exists alongside ours and hidden within it.
Amari and the Night Brothers has some great humour, action, mystery and a whole lot of imagination and heart to it. It's a really, genuinely fun read and Amari's journey to accept herself really touched my heart. I could tell within 20 pages that this was going to be a new favourite of mine and I can't wait to go back to work and start pushing this into people's hands and recommending it because I need everyone to read this book now!