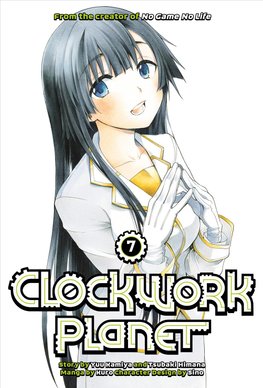 Clockwork Planet Vol 7
Rating: 4/5
Buy or Borrow: Buy
Source: Copy courtesy of the publisher!
Amid all the conspiracies and plots, the government is forced to come to a stalemate. When threats from mysterious parties and all-powerful weapons seem impossible to overcome, the leader of the military coup starts calling the shots. What's more, the leader's intent behind the coup is more dangerous to humanity than any could have imagined. Japan's national crisis has hit its peak, and Naoto and his friends stand at the core!
The latest volume of Clockwork Planet is action packed from the start, I loved how the whole attack was drawn, with Naoto and his phases and so on, and the contrast between Ryuzu and Anchor as they attack. Vermouth fully has me cackling too. Volume 7 has a completely hilarious opening chapter!
The volume is moving things along when it comes to the plot, we have Halter making his return finally, and Marie appears to maybe have a cool power? Or is she just a genius? Or both? Who knows. But Naoto and co swiftly enter the palace and we meet HRH Hoshi. They finally introduce themselves as basically the second Y and present themselves as an enemy to all of Japan, therefore giving the army something to work together on and forget the infighting.
However, our bad guy is fully gunning for Naoto. He's revealed to be Hirayama and we get a load of backstory on him and what his issue is. Not only that but things are looking pretty dire towards the end of the volume and Anchor runs off to try and save the day while Marie and Naoto have a bit of a bicker.
Volume 7 brings in a new character who's going to be interesting for sure, and I'm intrigued to see what part they're going to play. The world itself is expanded upon, and we get a lot of backstory and motivations for other characters that we've been curious about. I'm still not entirely sure where this story is going as a whole, but the current arc is definitely shaping up to be pretty epic!